APKT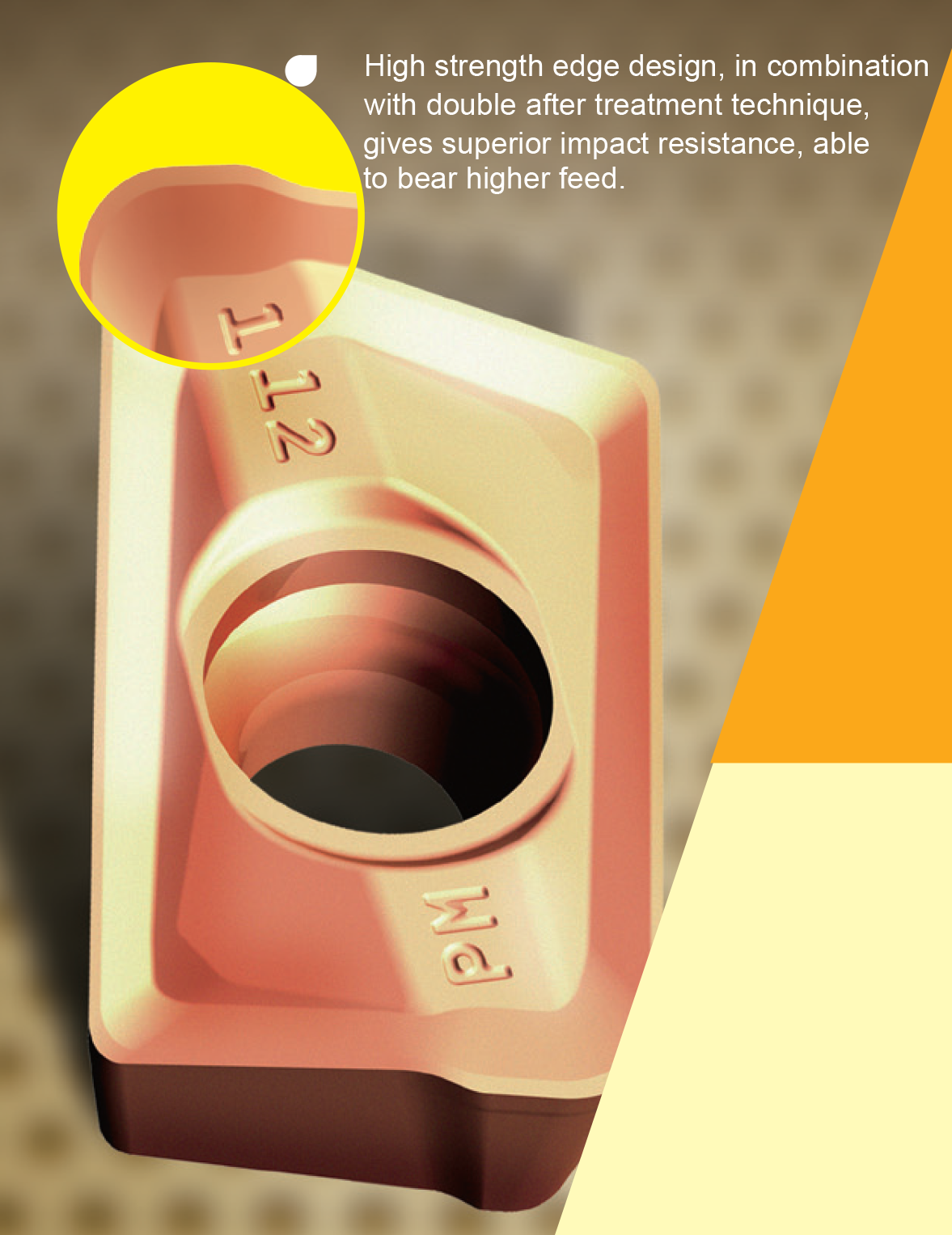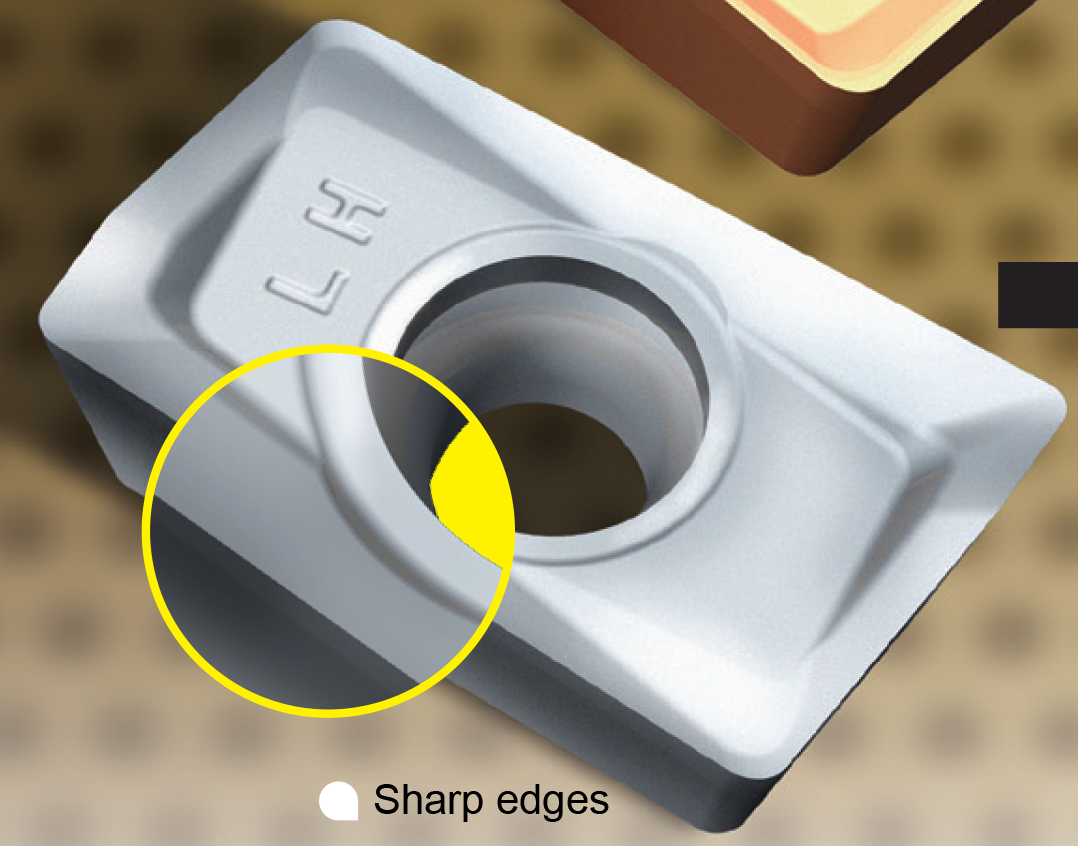 APKT
APF – Precisely ground insert, suitable for high quality 90 degree side milling and step milling
APM – Optimized edge design improves interpolation milling performance and greatly increases mould cavity machining efficiency.
ALH – Precisely ground insert, more suitable for high quality side milling and step milling in Aluminum alloy.

YB9020, new PVD grade, with unique atom rearrangement technique, achieves integration of coating hardness, toughness and thermal stability.
Optimized structure design greatly improves surface quality of workpiece while enhancing interpolating machining performance.
Greatly enhanced overall strength of insert for outstanding chipping resistance
Unique after coating treatment for smoother surface
High strength edge design, in combination with double after treatment technique, gives superior impact resistance, able to bear higher feed.

Comprehensively improve mould cavity machining efficiency
Machine : Vertical machining center
Tool diameter : Ø 20mm
Machining style : mould cavity machining
Insert specification : APKT160408-APM
Insert grade : YB9020
Workpiece material : P20 (HRC33-36)
Cutting data : Vc-150m/min, f=0.2mm/z ae=3mm, ap=0.4mm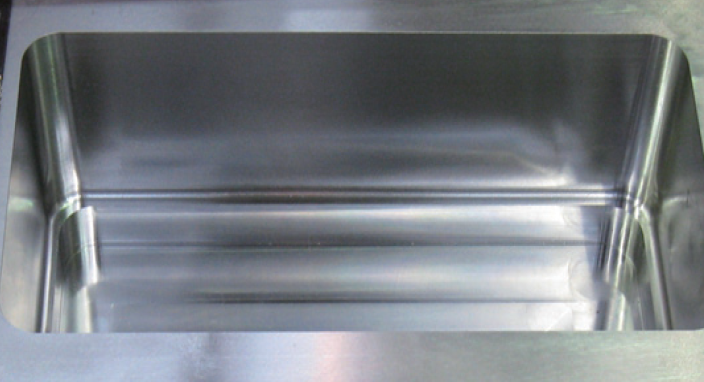 Result: Optimized structure in combination with new "golden drill" coating technique makes ZCCCT products
more suitable for mold cavity machining, with tool life longer than similar products of company A by 150% at
the same cutting data and by 200% after adjustment of cutting data.
Greatly improved quality of square shoulder milling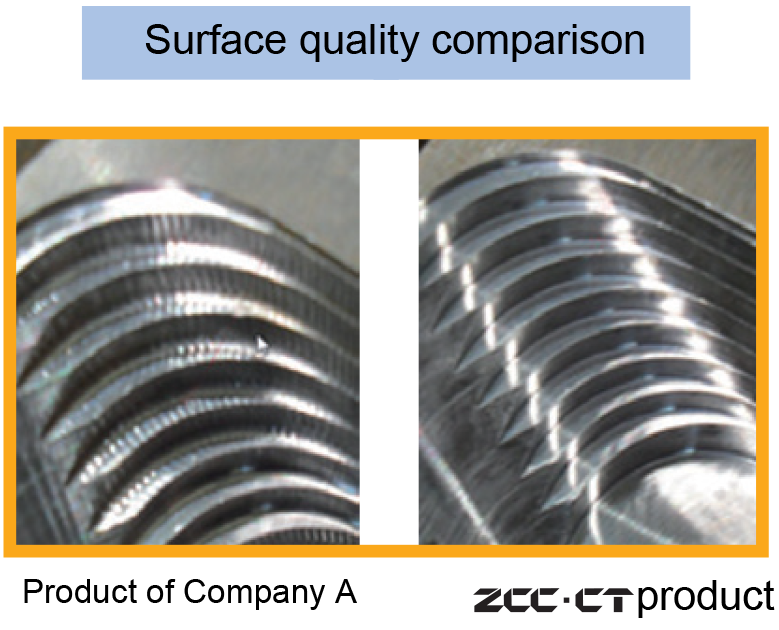 Workpiece : turbine blade
Machine : machining center
Material : 1Gr10NiW2VNBN-5
Machining style : Suqare milling
Cooling style : internal coolant
Precision requirement : bright surface, long life, no edge breakage
Tool : APKT11T308-APF/YB9020
Cutting data : Vc=150m/min, fz=0.15mm/z ap=3mm
Result: ZCCCT products with APF geometry and precision grinding technique can obtain superior quality surface and is more suitable for 90 degree side milling.
Greatly improved insert life
Machine : machining center
sprial counterboring
Tool diameter : Ø 25mm
Insert specification: APKT11T312-APM
Insert grade : YB9020
Workpiece material : die steel (HRC37)
Cutting data : Vc=160mm/min fz=0.2mm/z ap=5mm