Grade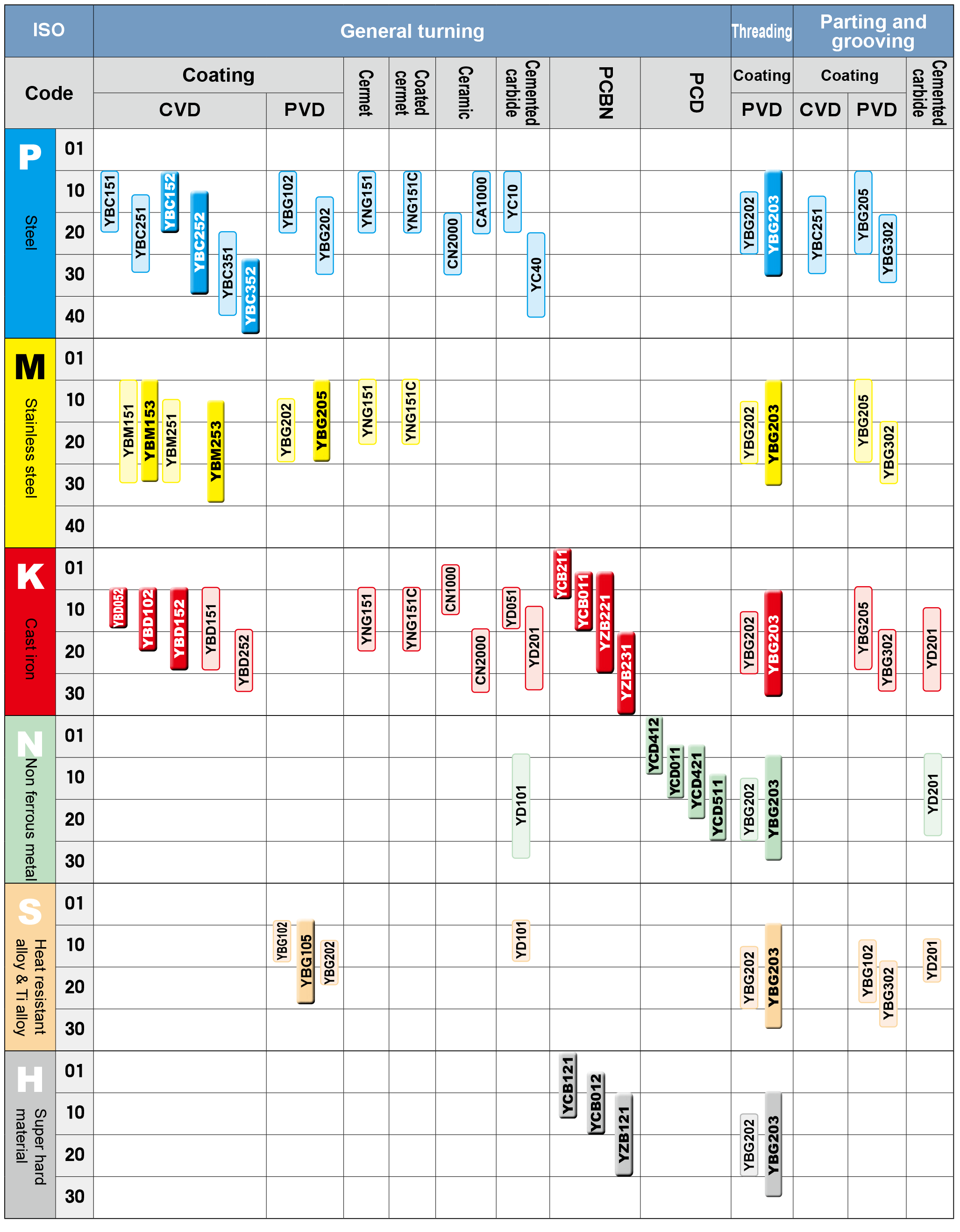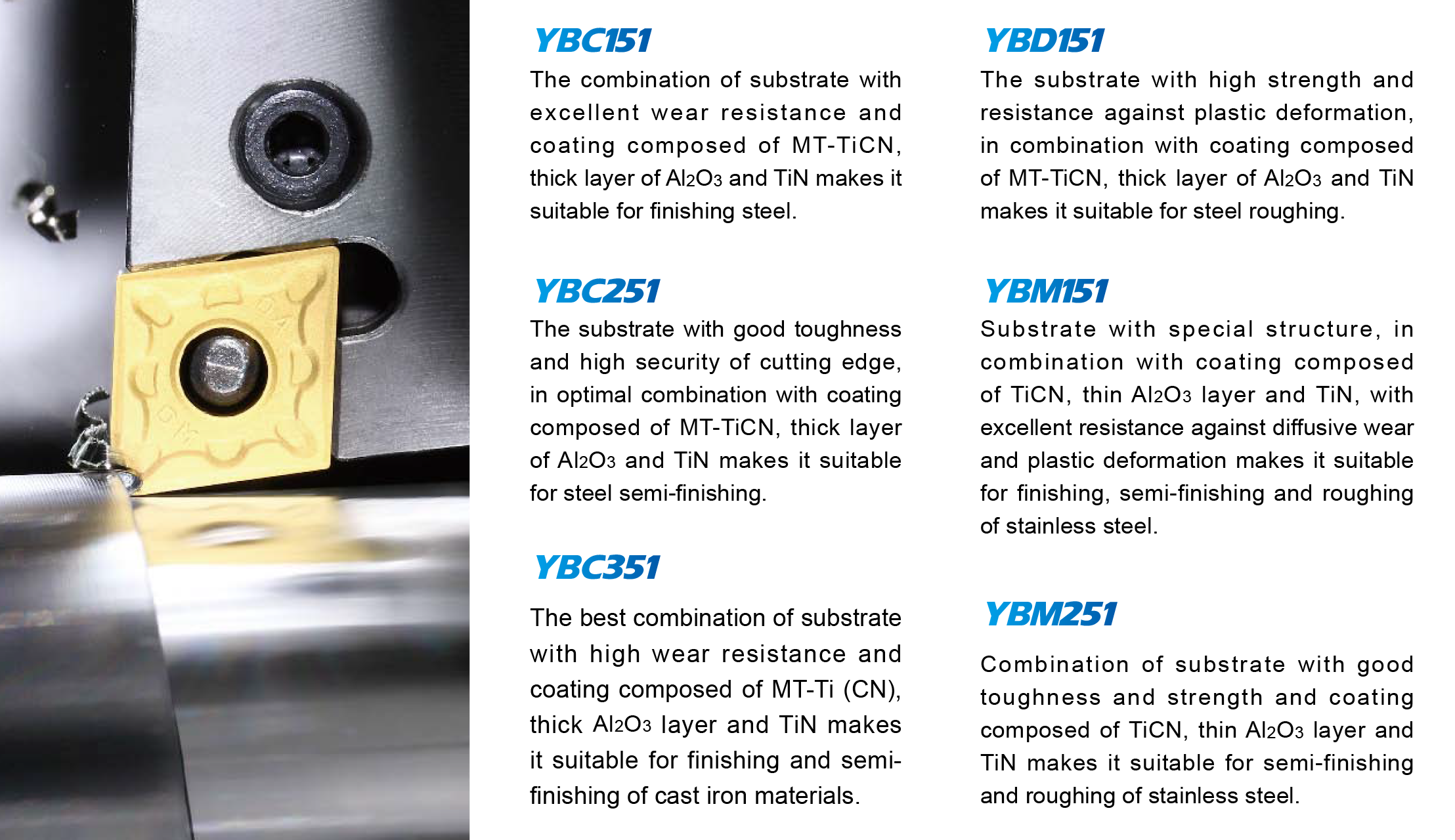 CVD – Coated Cemented Carbide
YBC251Coating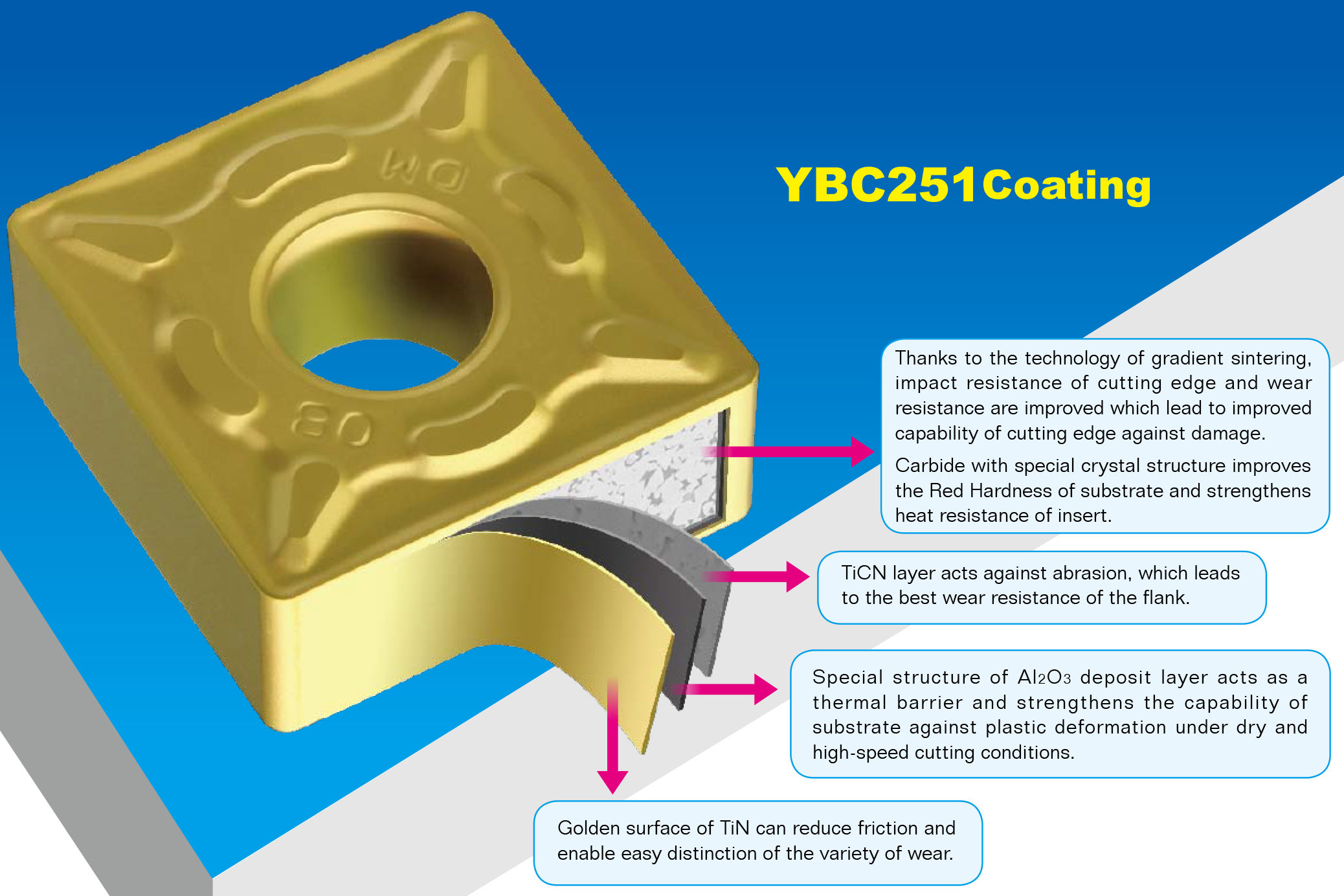 BLACK DIAMOND INSERTS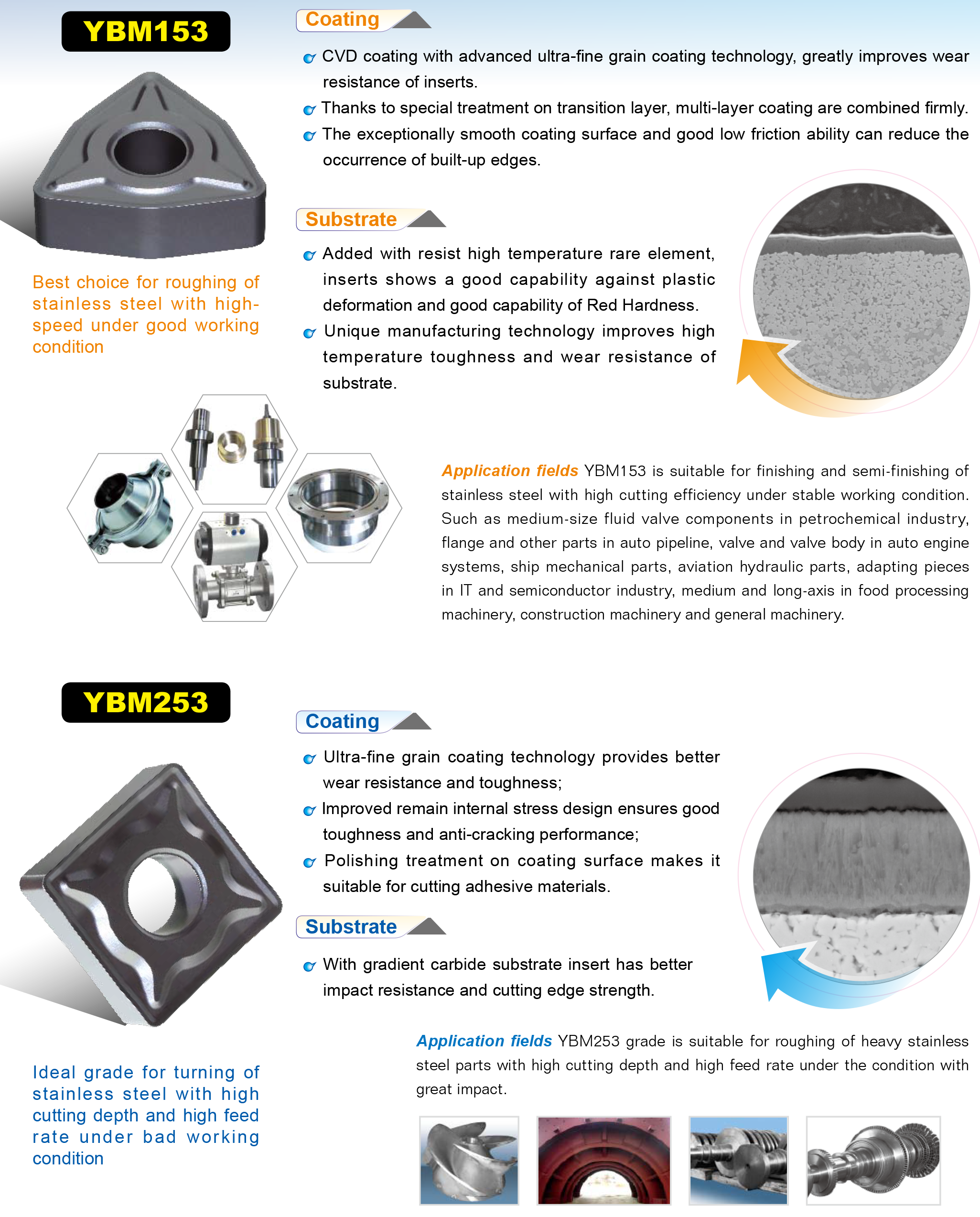 BLACK DIAMOND INSERTS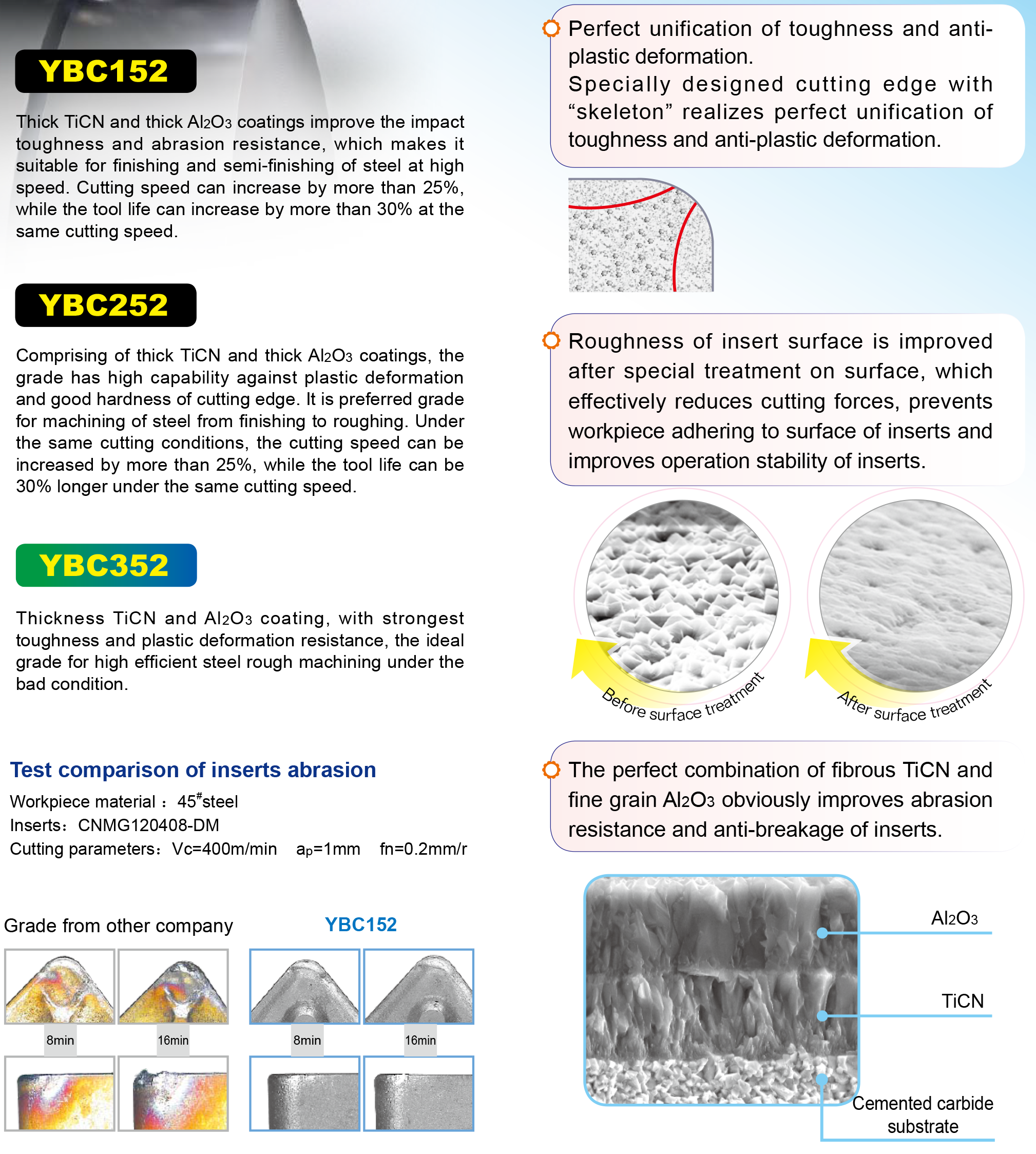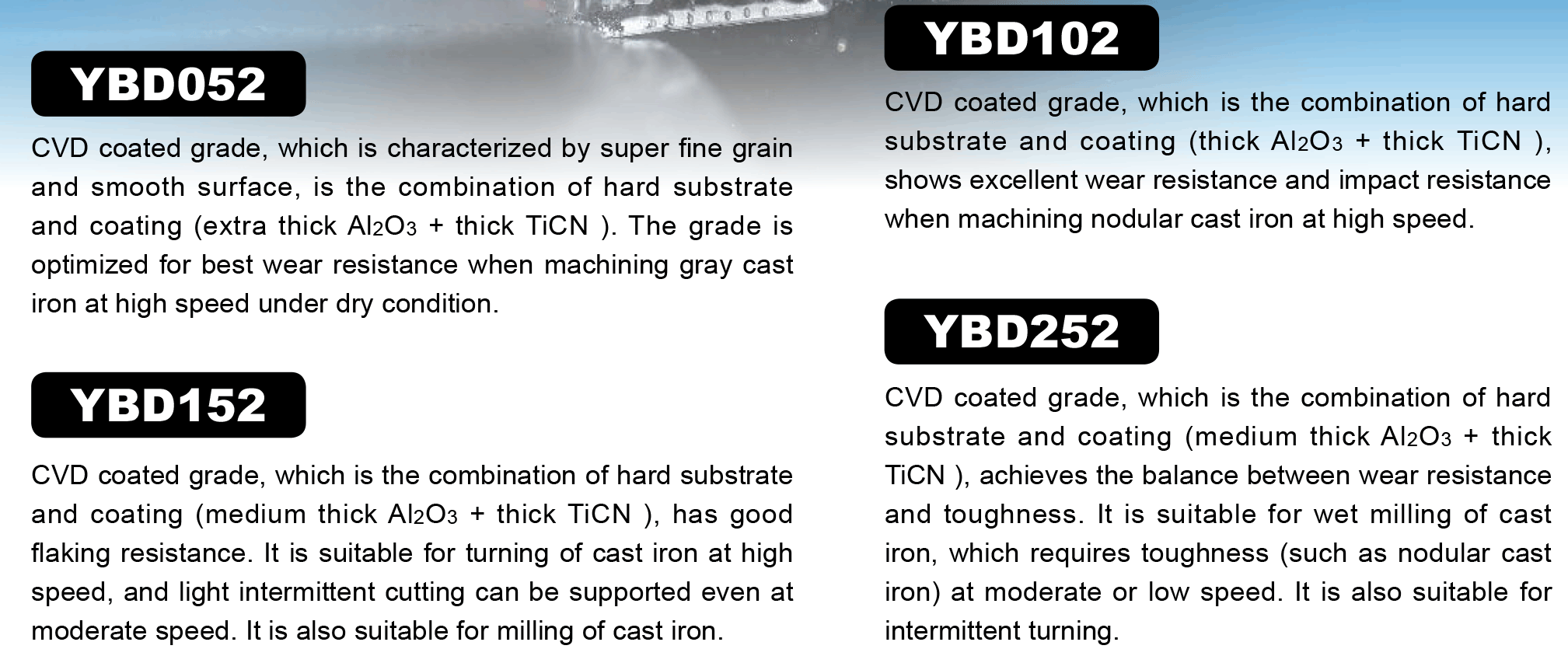 BLACK DIAMOND INSERTS
First choice for high-efficiency and high-speed machining of cast iron [YBD]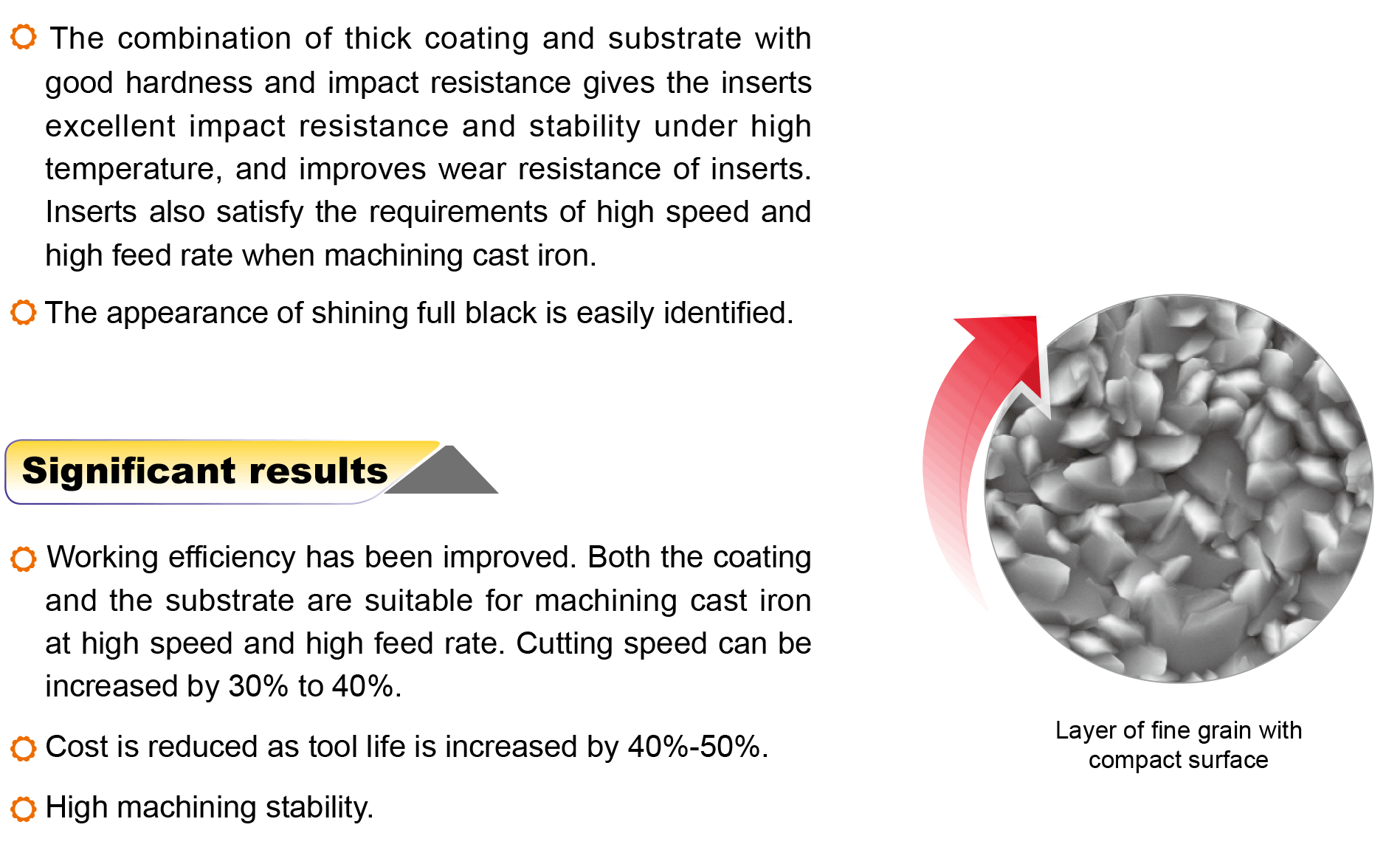 Recommended combination of grade and chipbreaker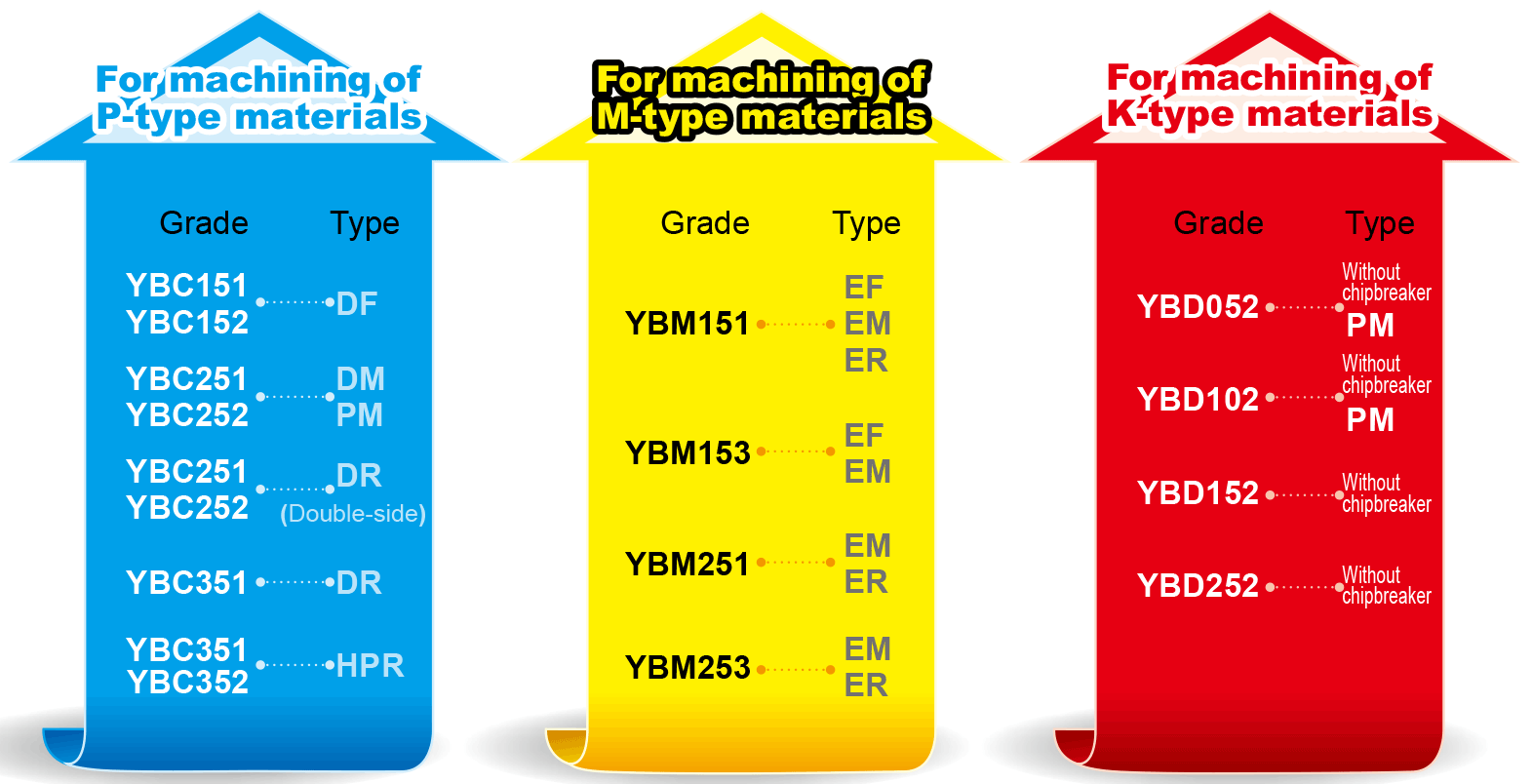 Recommended cutting parameters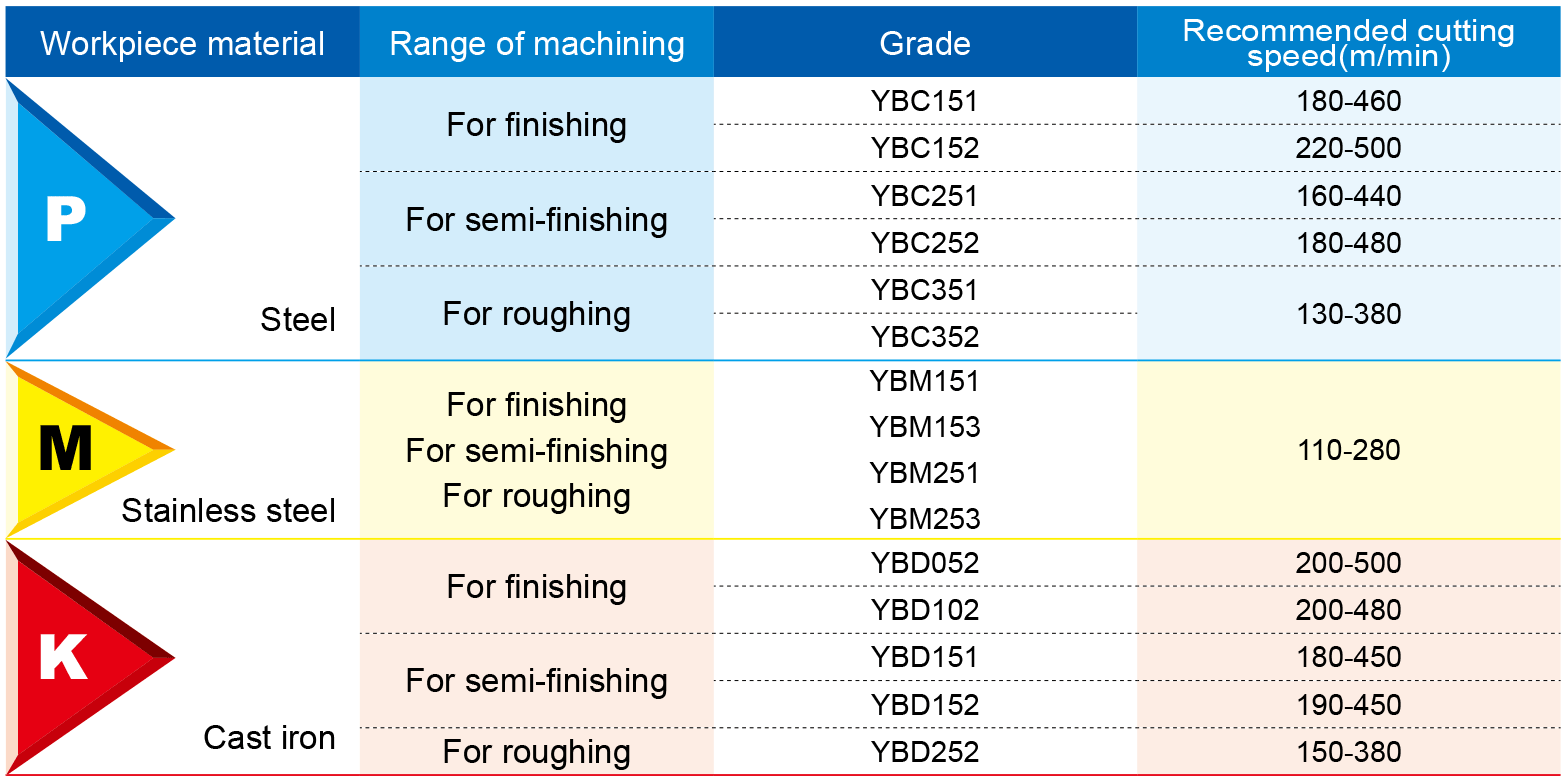 Case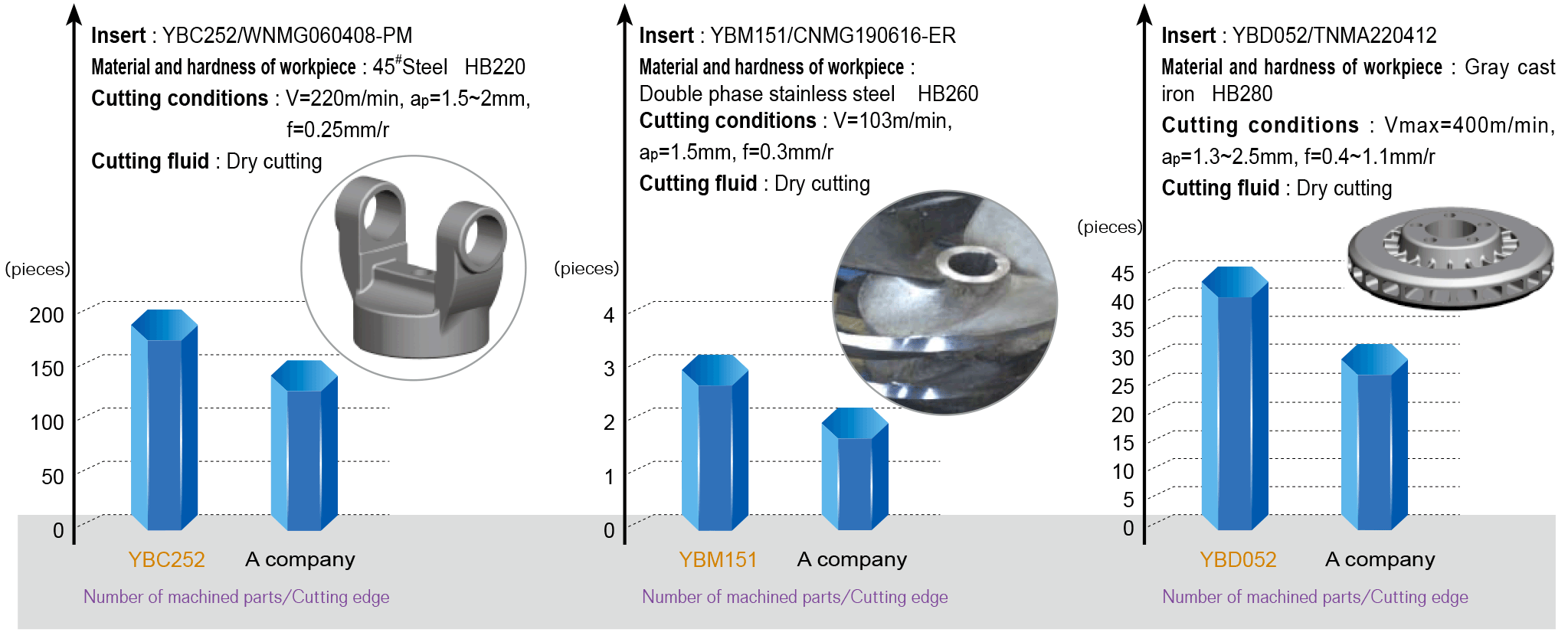 Coated Cemented Carbide PVD
makes it easy to machine materials which are hard to be machined
New nano coating grade
Special coating techniques make inserts smooth, which leads to low friction and unobstructed chip flow.
Unique coating with nano structure closely integrates with substrate, ensuring higher hardness and toughness.
Excellent thermal stability and chemical stability can effectively protect cutting edge.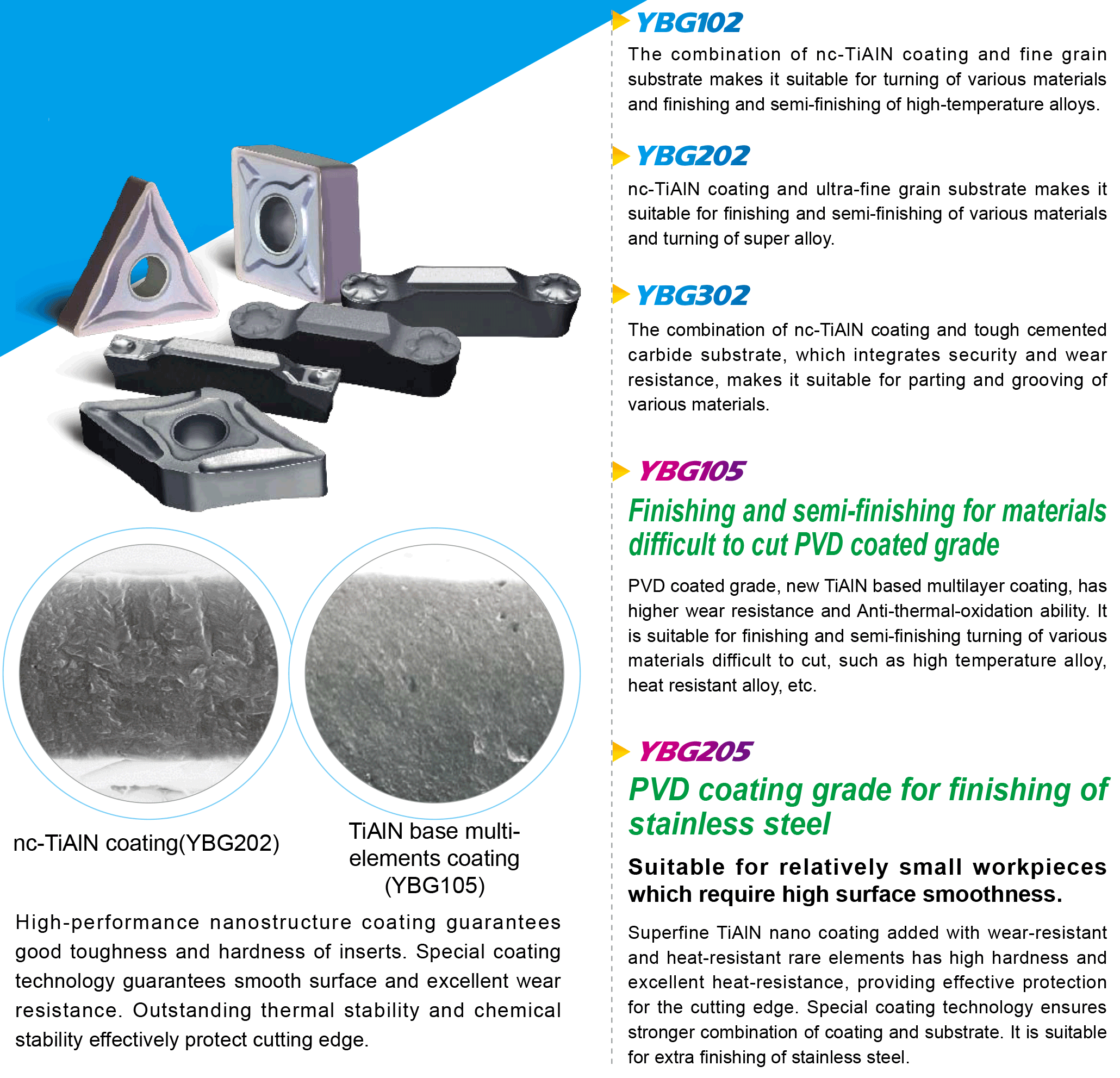 Recommended combination of grade and chipbreaker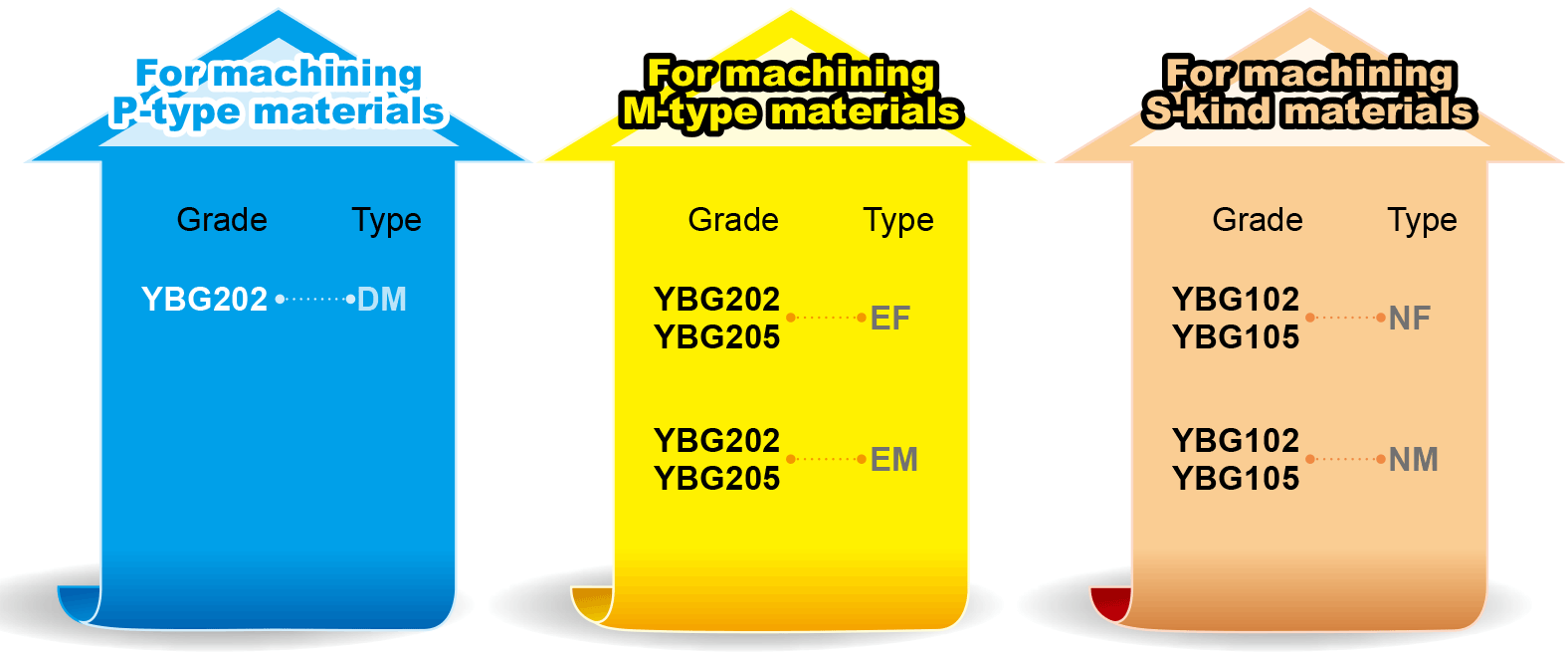 Recommended cutting parameters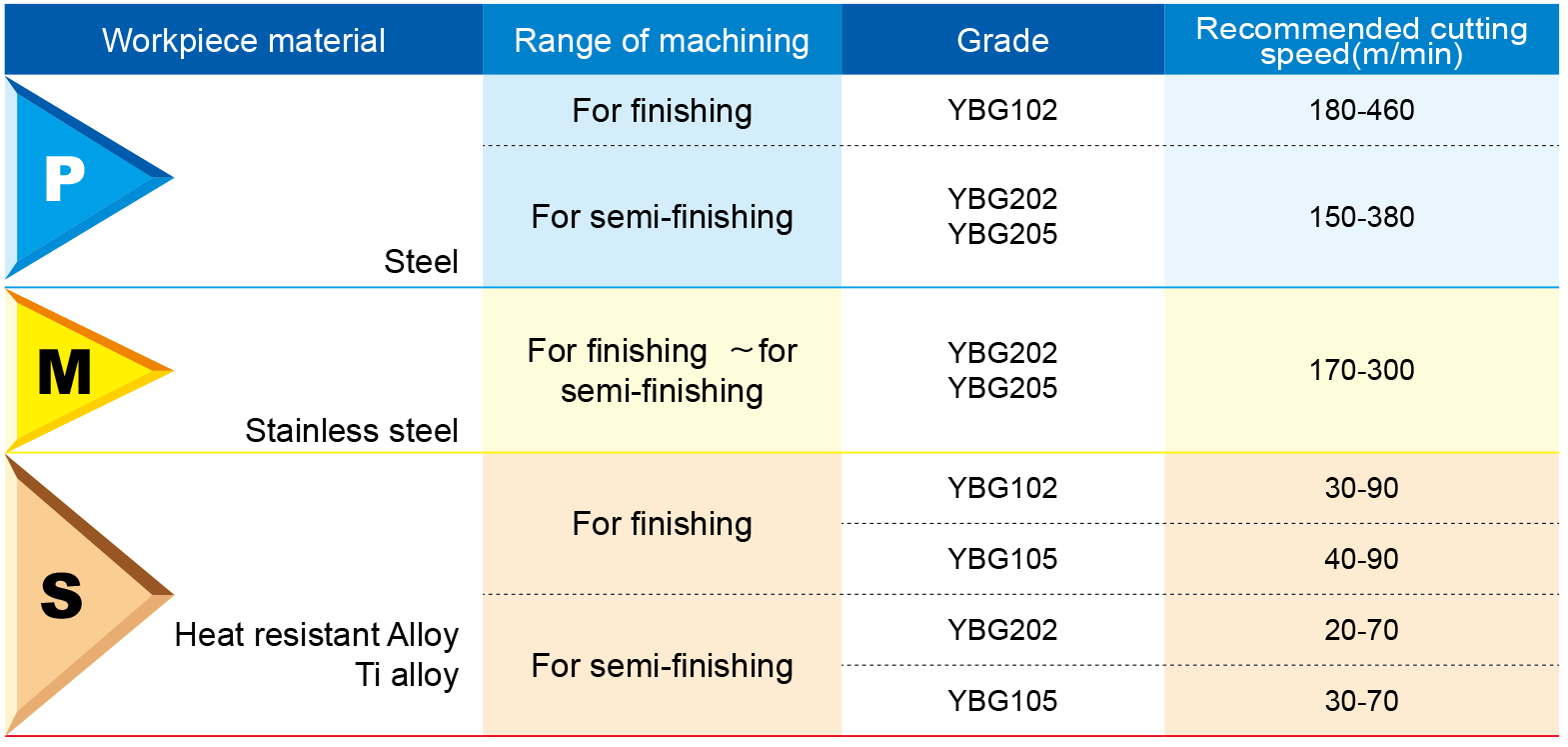 Case

Cermet & Coated Cermet
The chemical stability between Ti(CN) base cermet inserts and workpieces is relatively high, which reduces the friction and temperature of the cutting edge during cutting, preventing mutual diffusion of atoms of the workpiece material and the inserts, and improving resistance to bonding abrasion. Therefore, Ti(CN) base cermet shows good capability of Red Hardness and resistance to crater wear. It is an optimal material for high-speed finishing and semi-finishing of steel. High temperature strength of cermet is higher than that of WC-Co, and toughness better than that of Al2O3 and Si3N4 ceramic. This fulfils the application blank of WCbase cemented carbide and Al2O3 and Si3N4 ceramic from finishing to semi-finishing at high speed.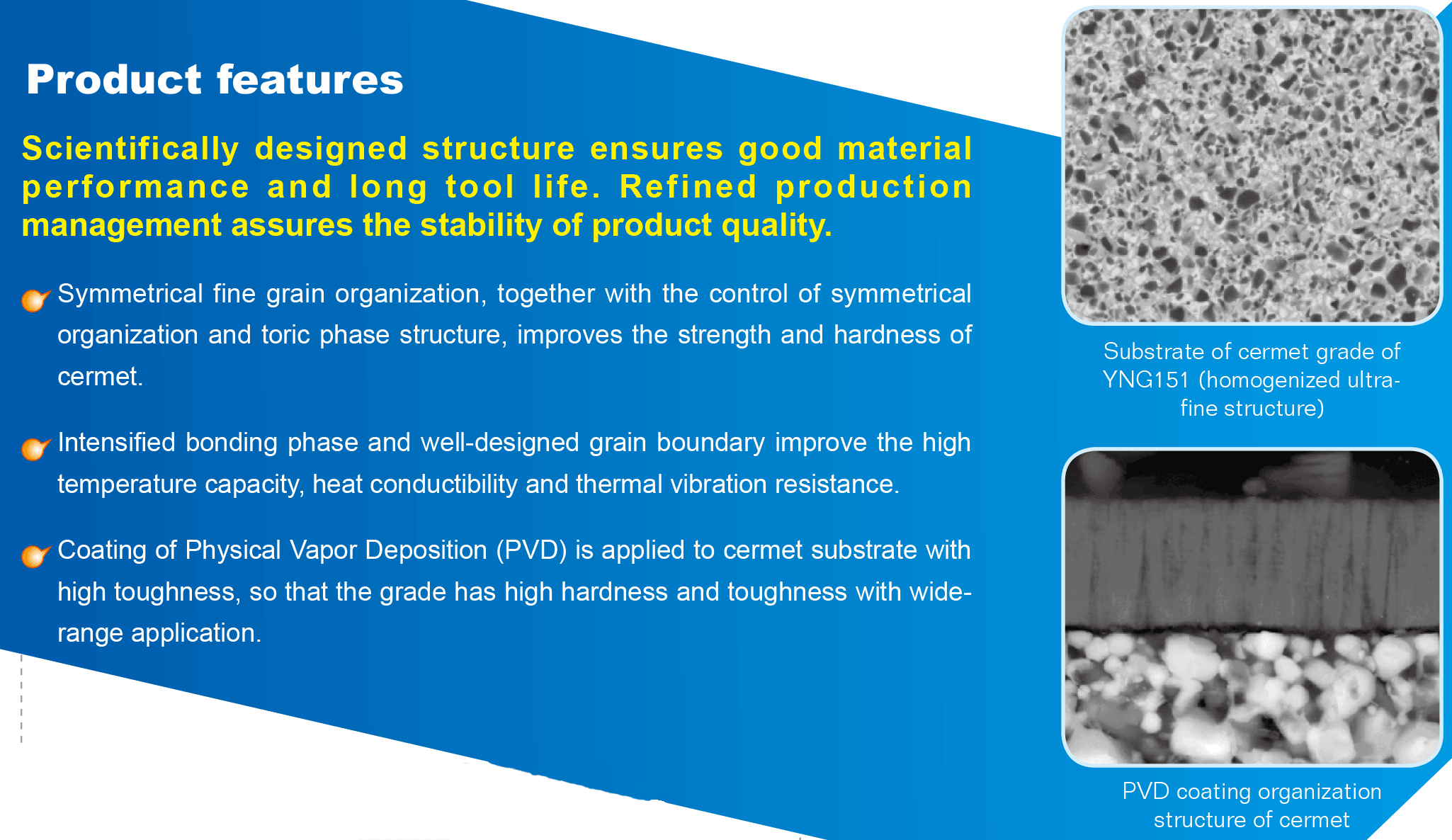 Recommended cutting parameters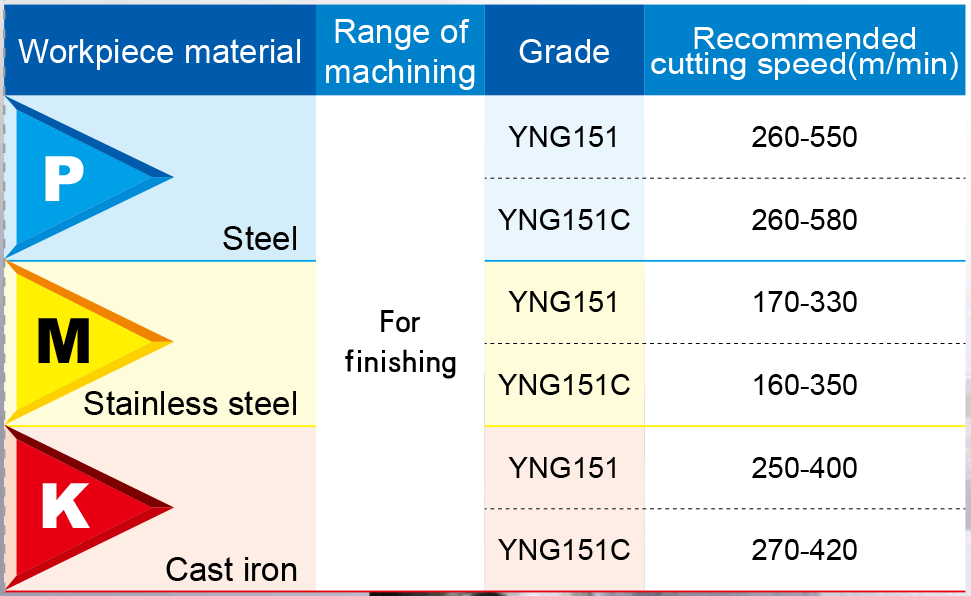 Case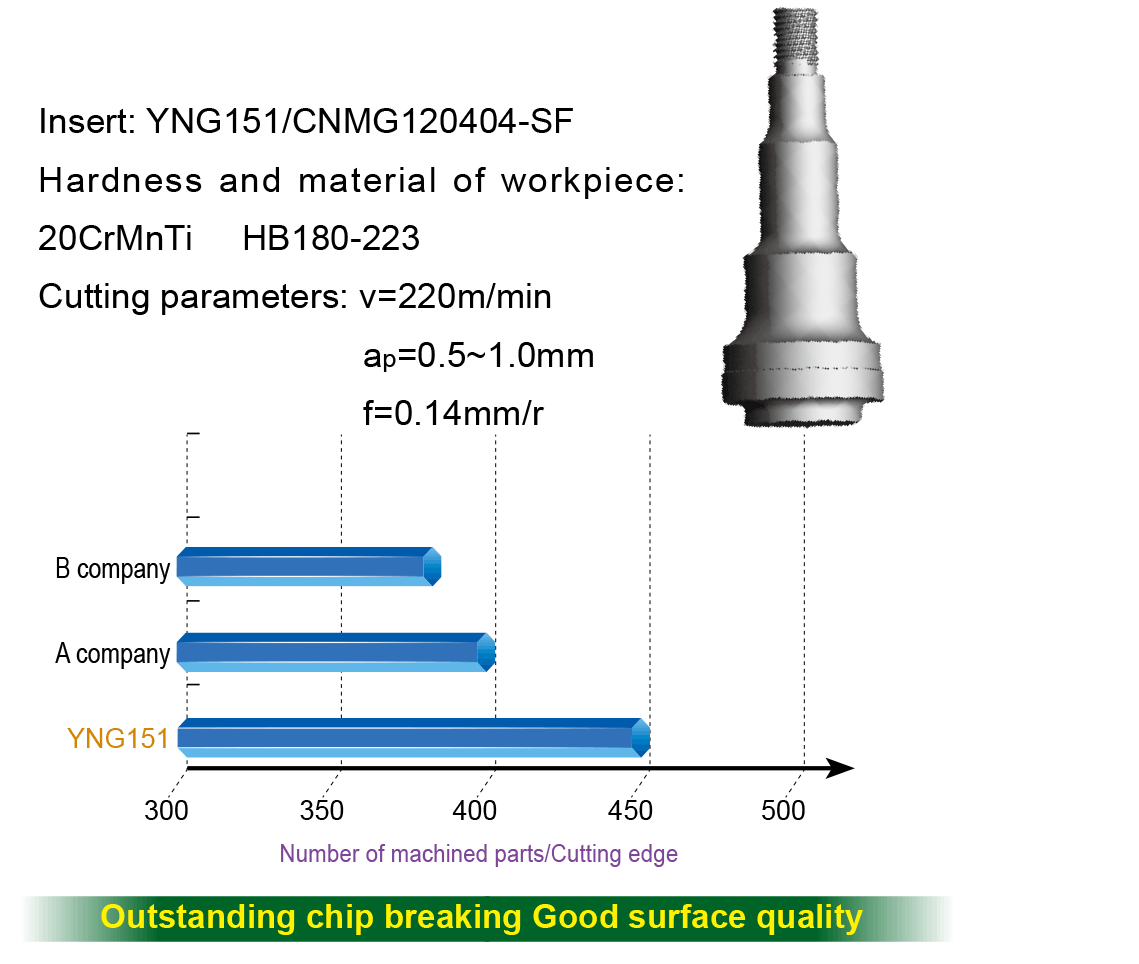 Cemented Carbide Grade
Uncoated cemented carbide grade is widely used for machining of non-ferrous metal, high temperature alloy, etc. It is economical and can be universally applied.
Recommended cutting parameters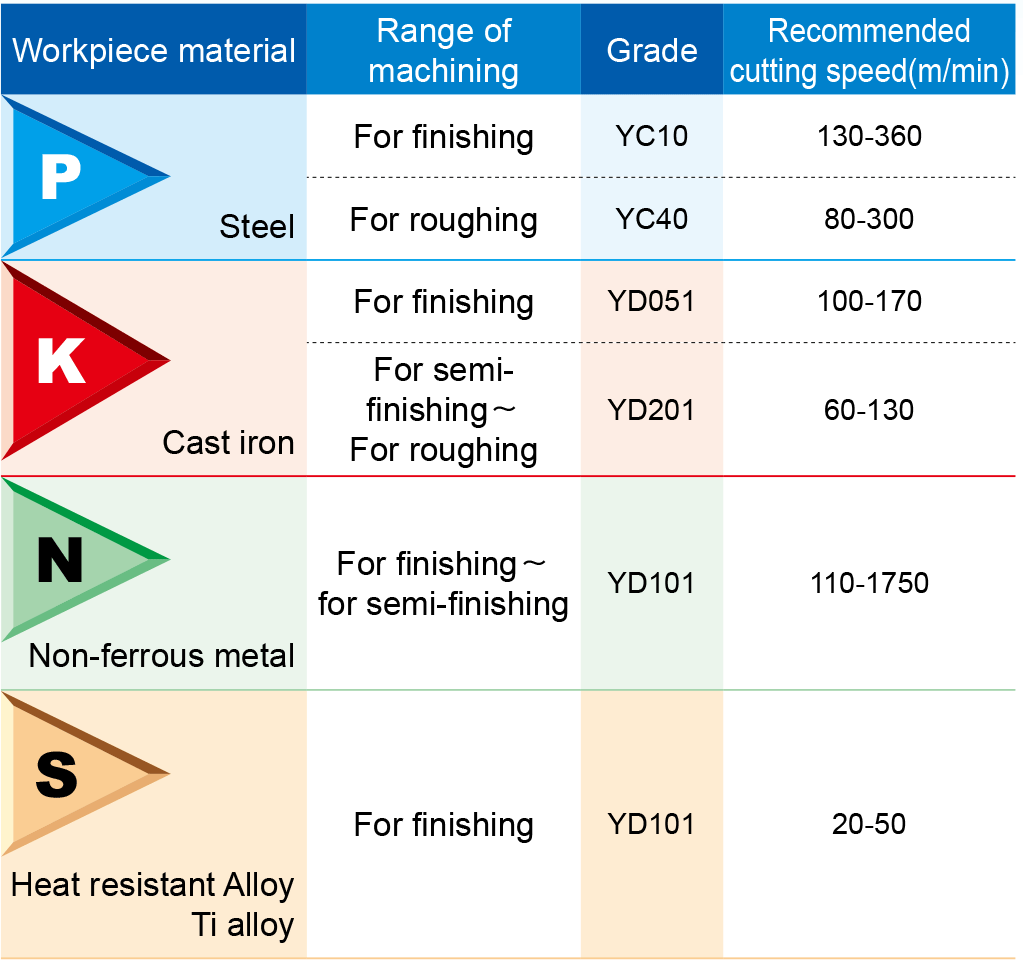 Case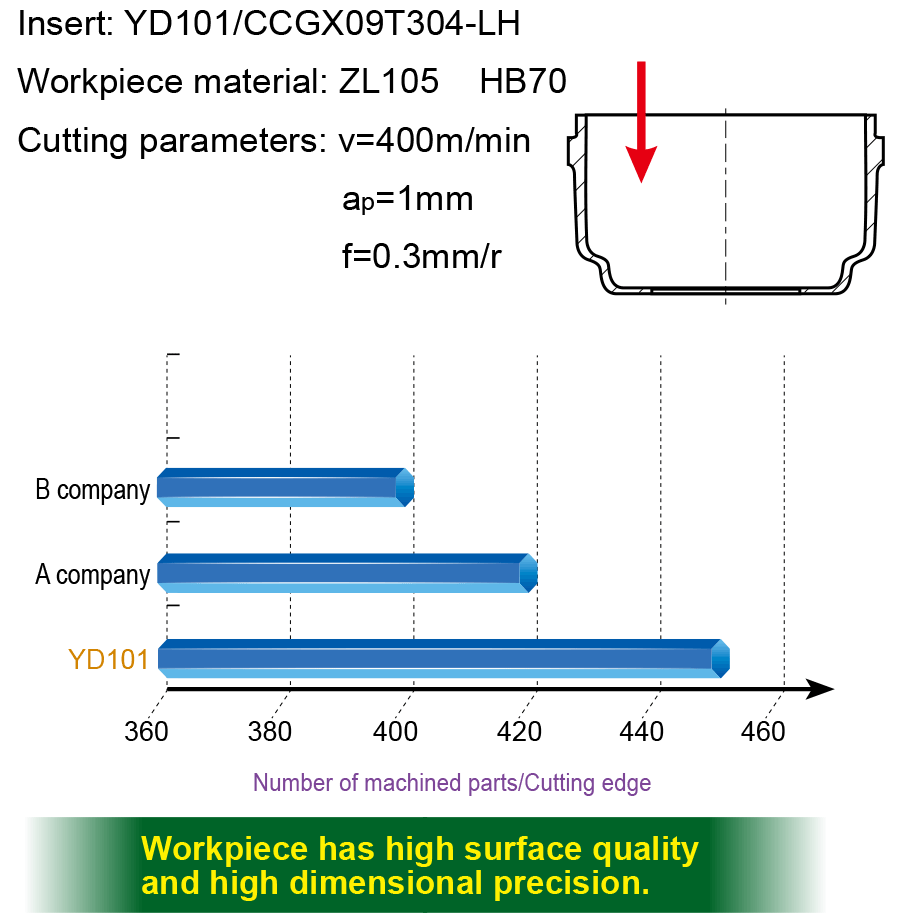 Ceramic Grade
Polycrystalline Cubic Boron Nitride – PCBN
PCBN cutting tools with high hardness, abrasion resistance , good heat resistance and high temperature hardness for cutting of hardened steel greater than 45 HRC (such as carbon steel , bearing steel, mould steel and high speed steel, the cutting temperature could be 1300°C), grey cast iron, nodular graphite cast iron, chilled cast iron and Ni-based, Cobased, Cr-based and Fe-based high temperature alloy.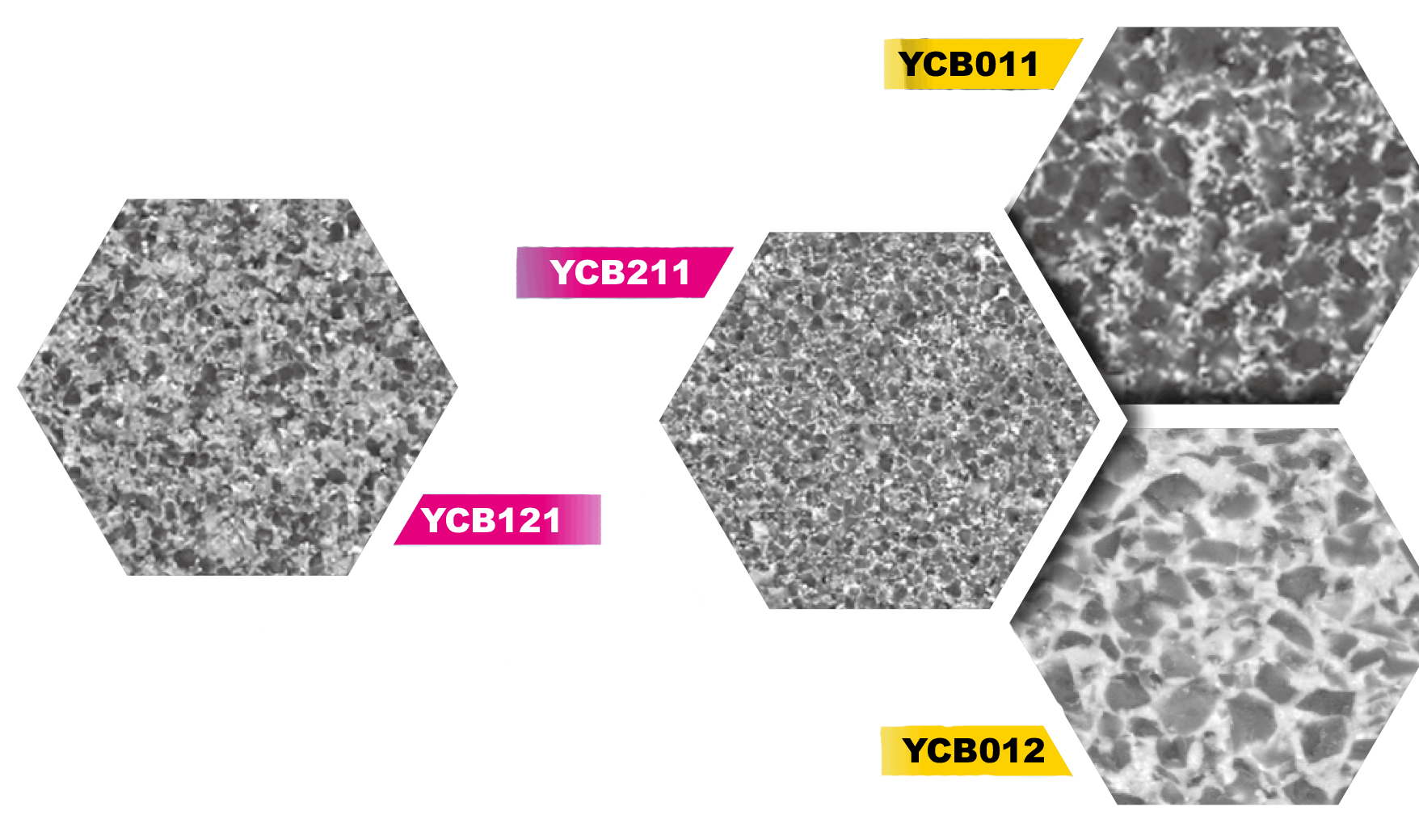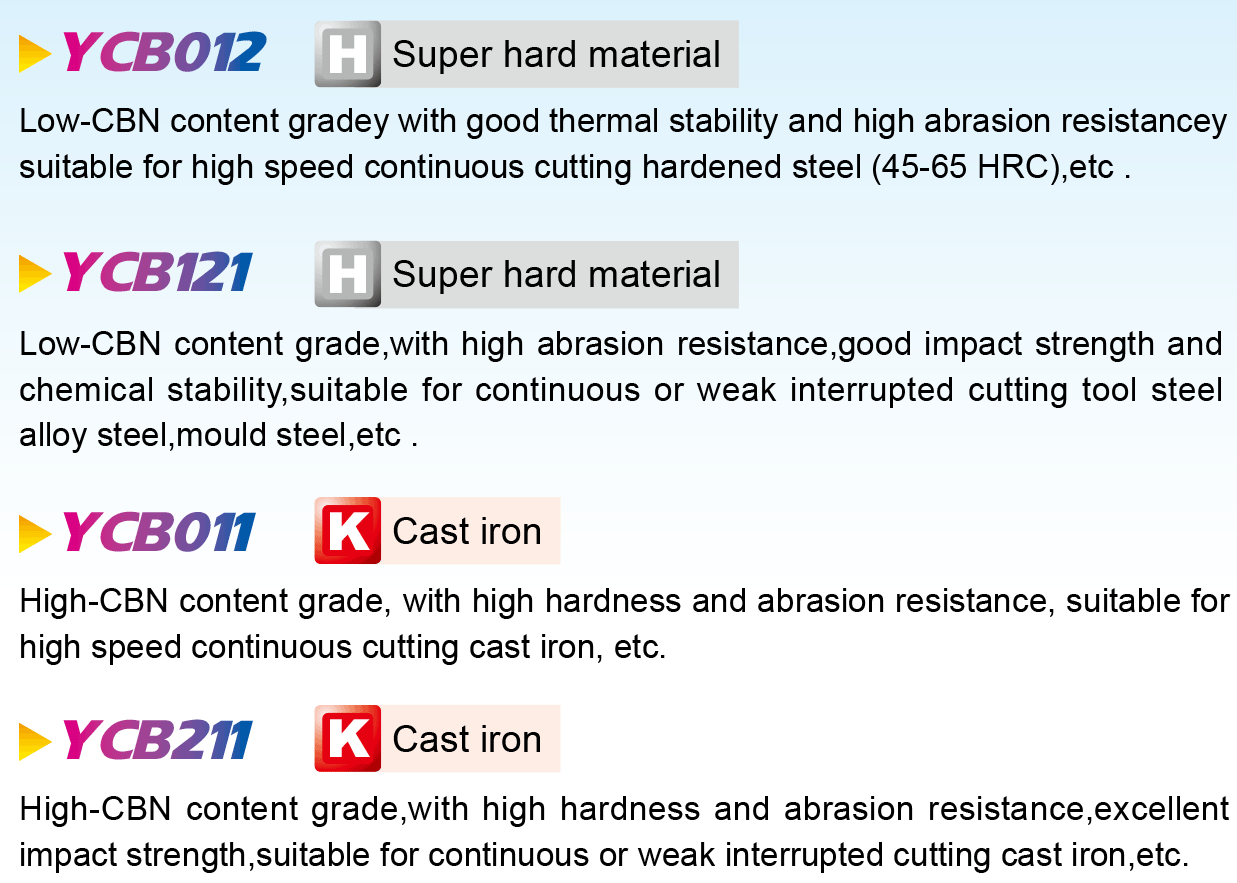 Application and machining Parameter Guidelines: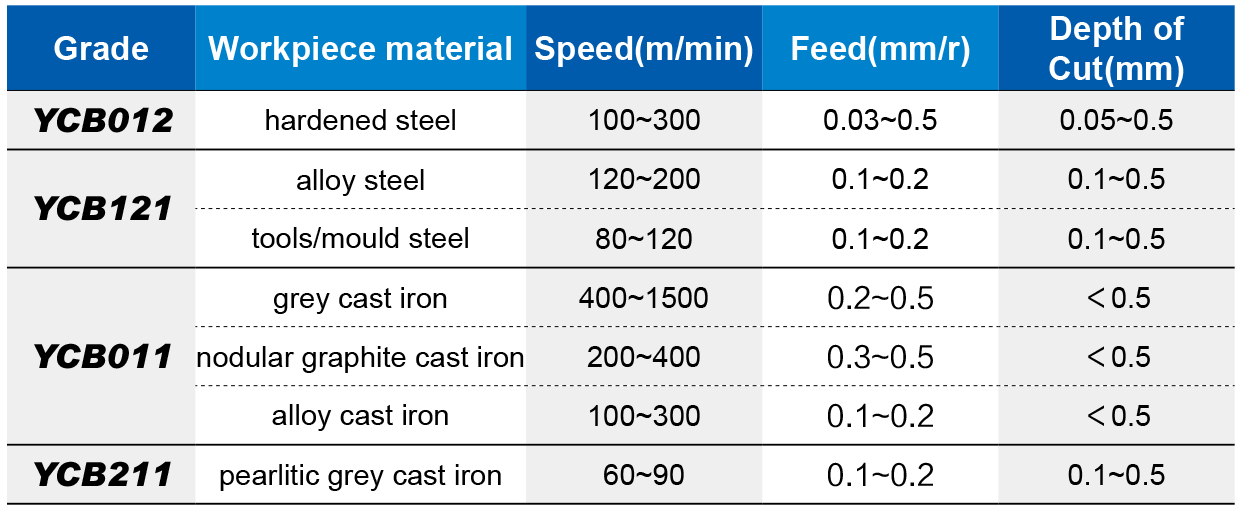 Case
Workpiece material : Cast iron TL048
Insert grade : YCB211
Insert type : CNGA120408-2
Machining mode : Continuous dry cutting
Cutting parameters : vc=600m/min fn=0.2mm/rev, ap=0.5mm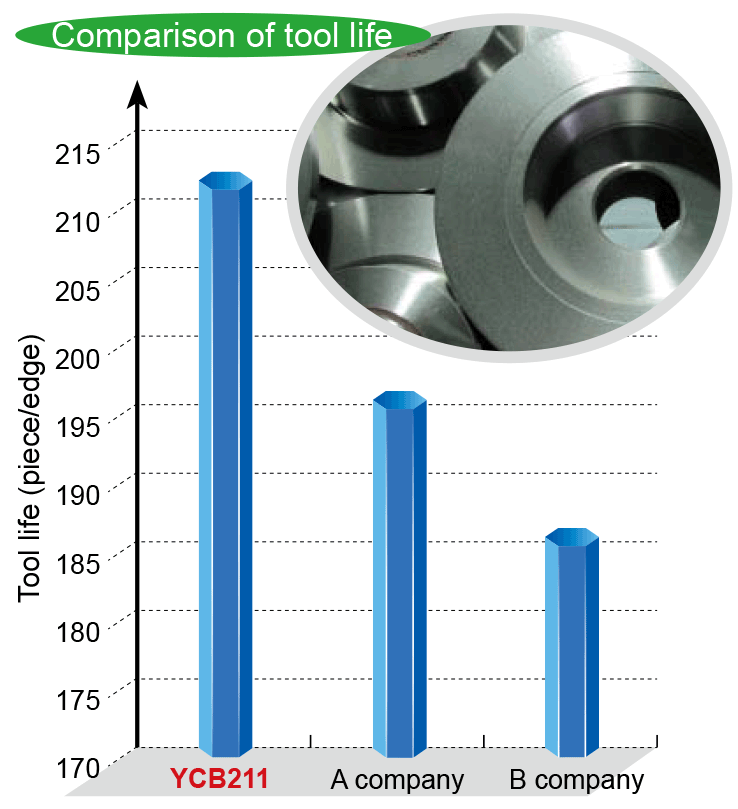 Ceramic Grade
PCBN – inserts turning case
Solid PCBN with good abrasion resistance and chemical stability, compared with the PCBN compact has higher impact strength suitable for the turning/milling roughing and semi-finishing.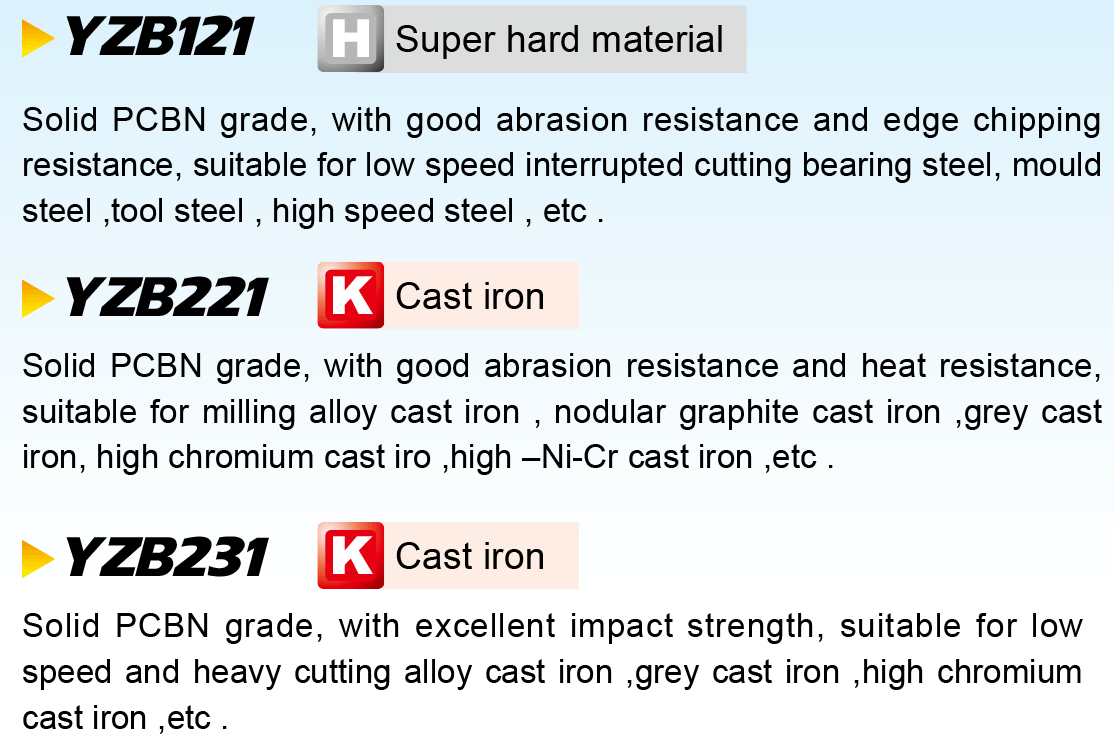 Application and machining Parameter Guidelines: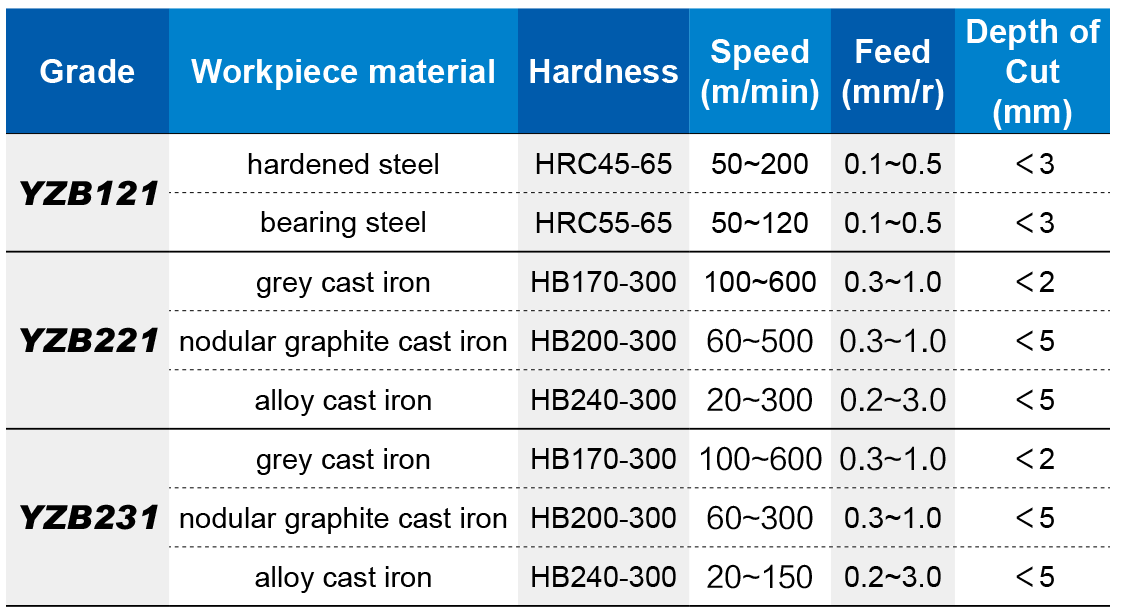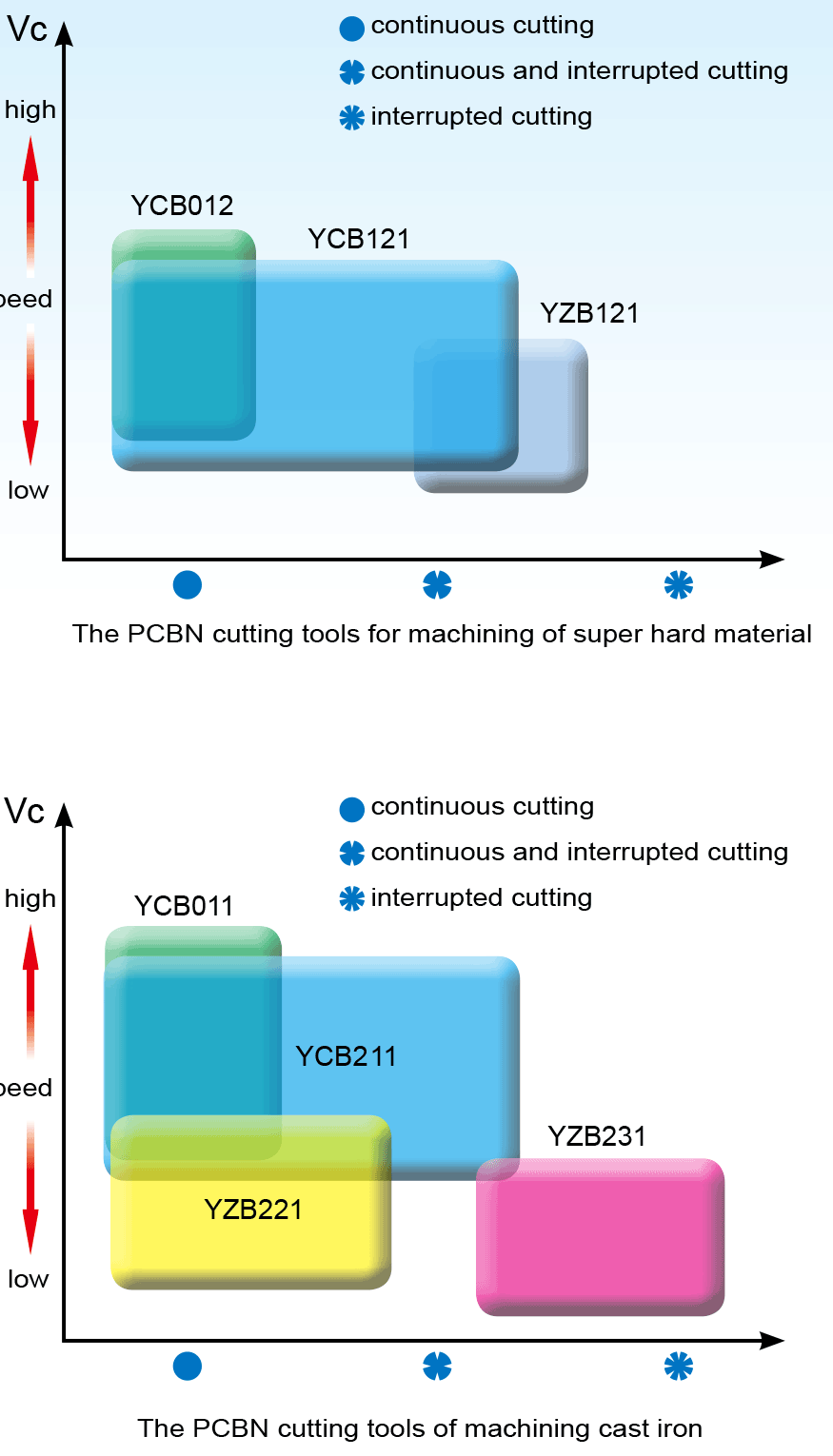 Ceramic Grade
PCD – Polycrystalline Diamond
PCD cutting tools with high hardness , excellent abrasion resistance and thermal conductivity , low fiction coefficient for cutting of Non-ferrous metals and their alloys(such as Cu , Al , Mg , etc) , Nonmetallic materials and compound materials.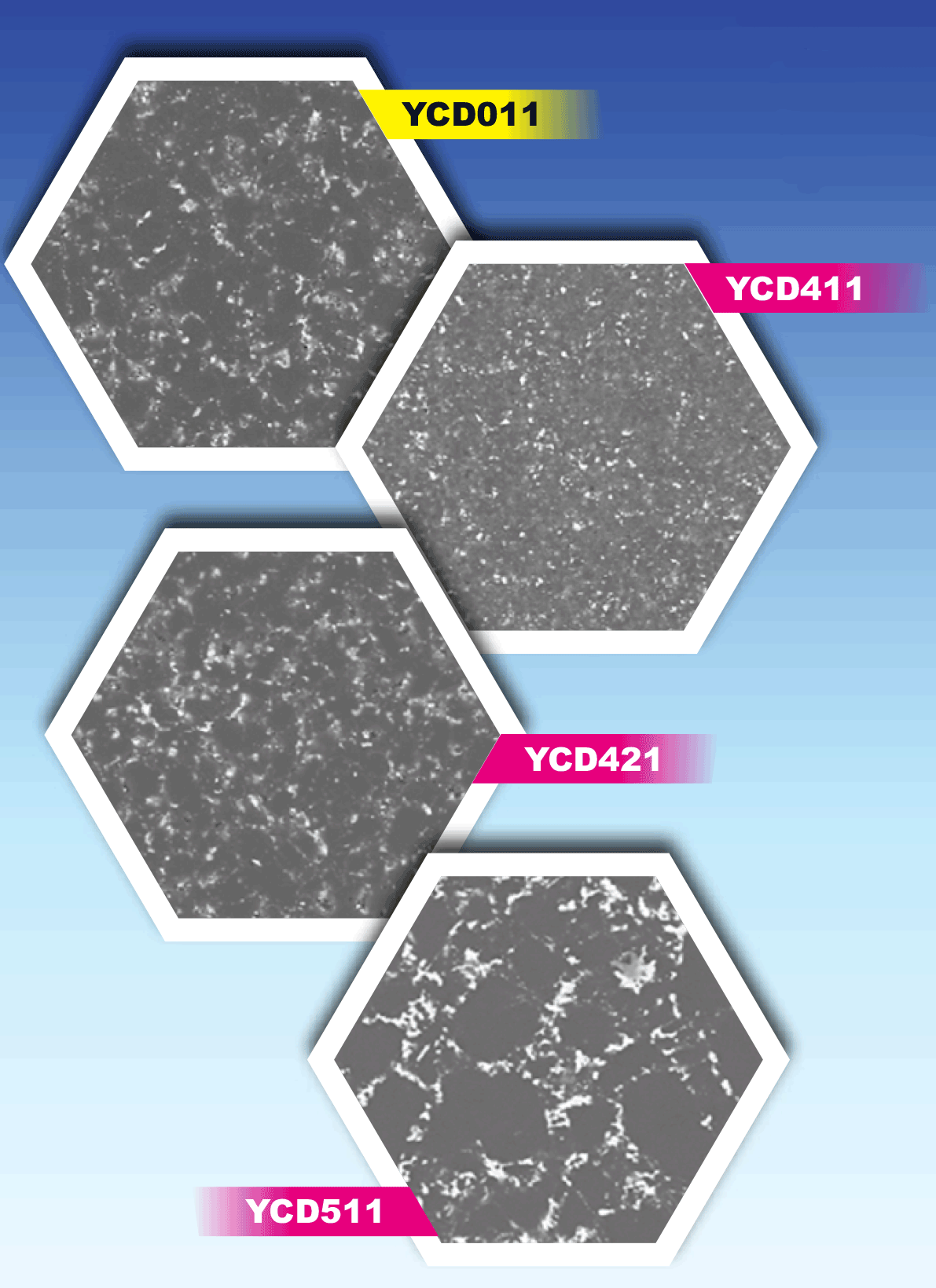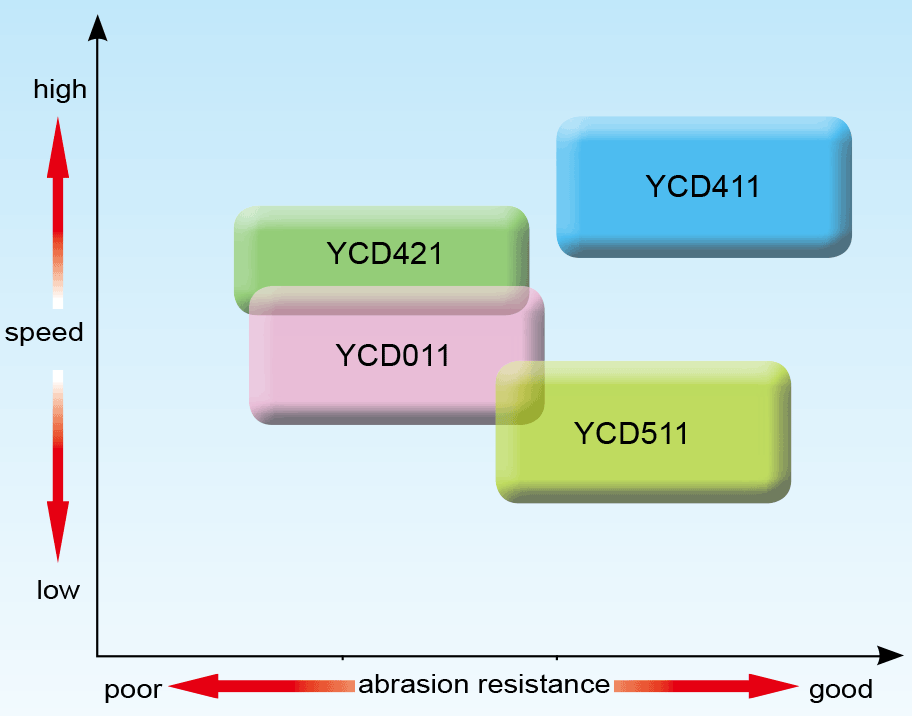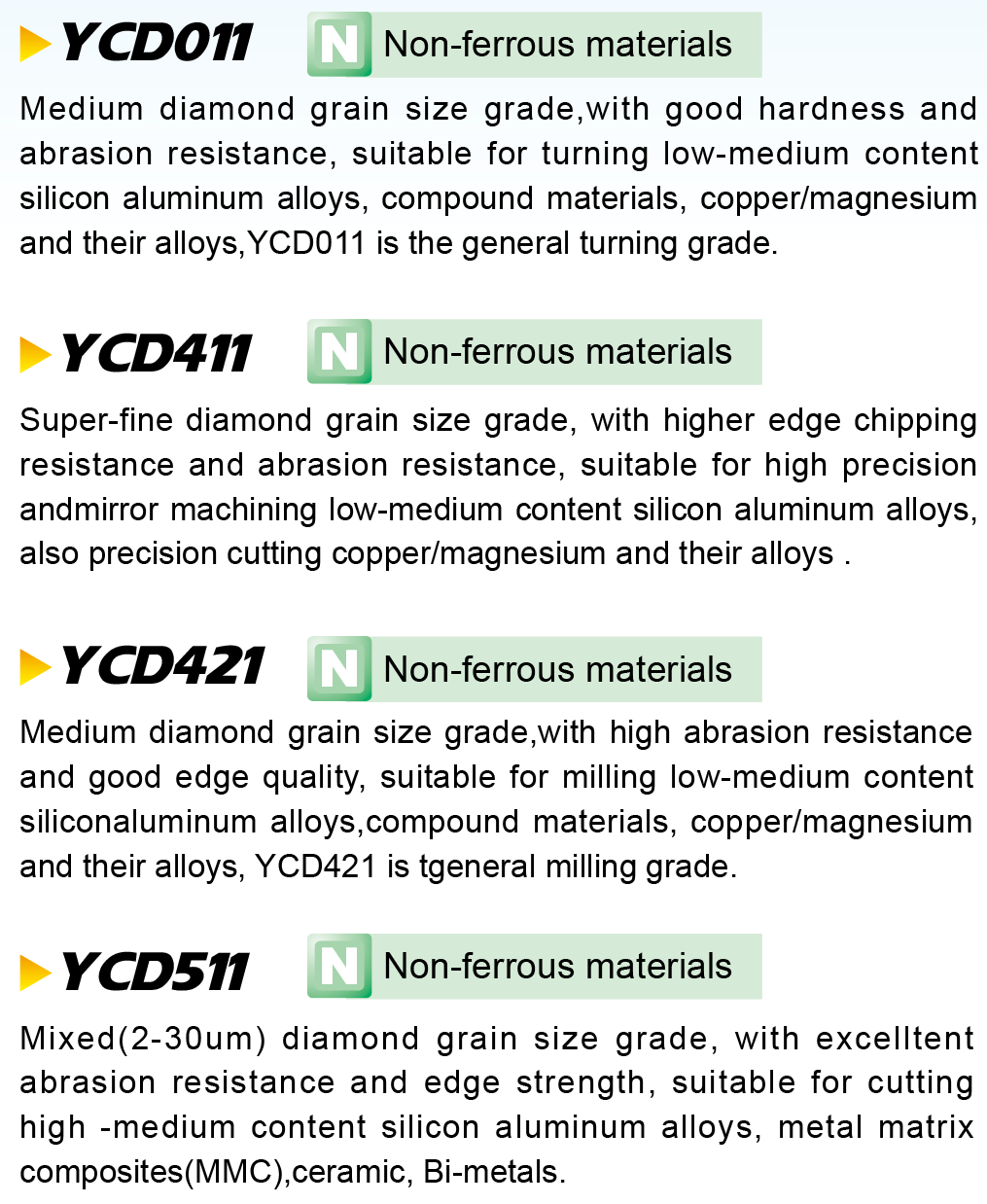 Application and machining Parameter Guidelines: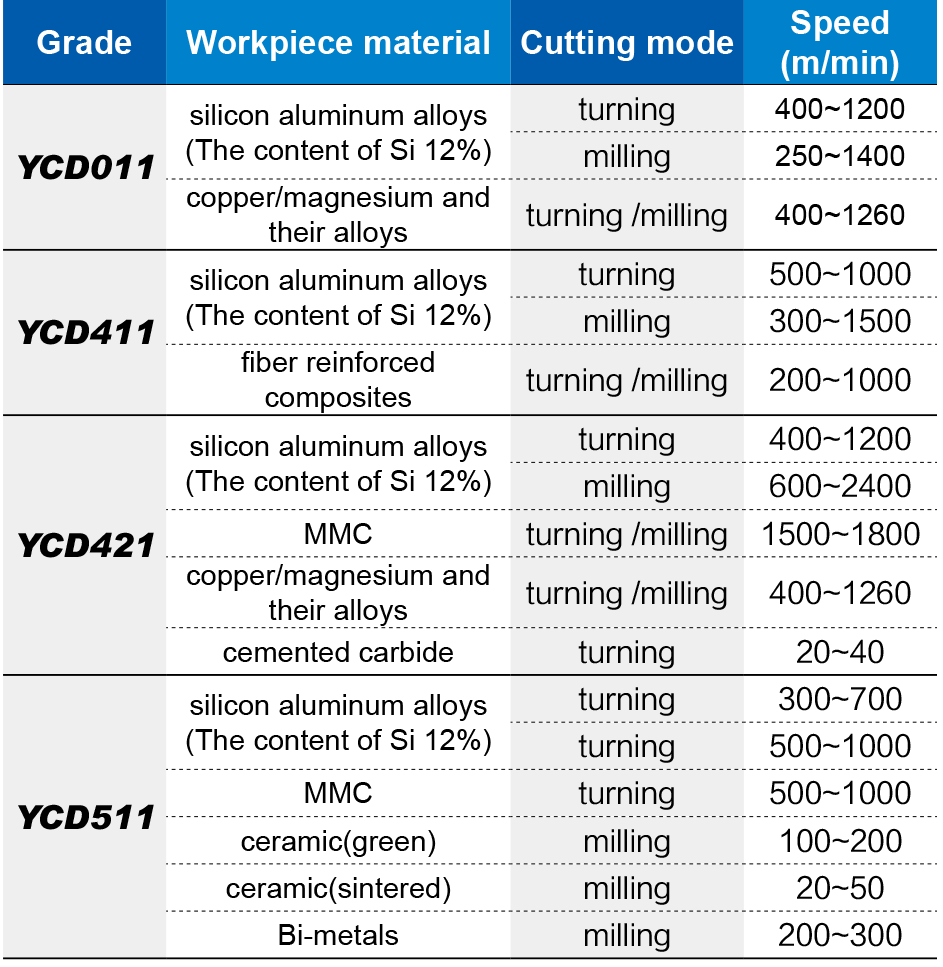 Ceramic Grade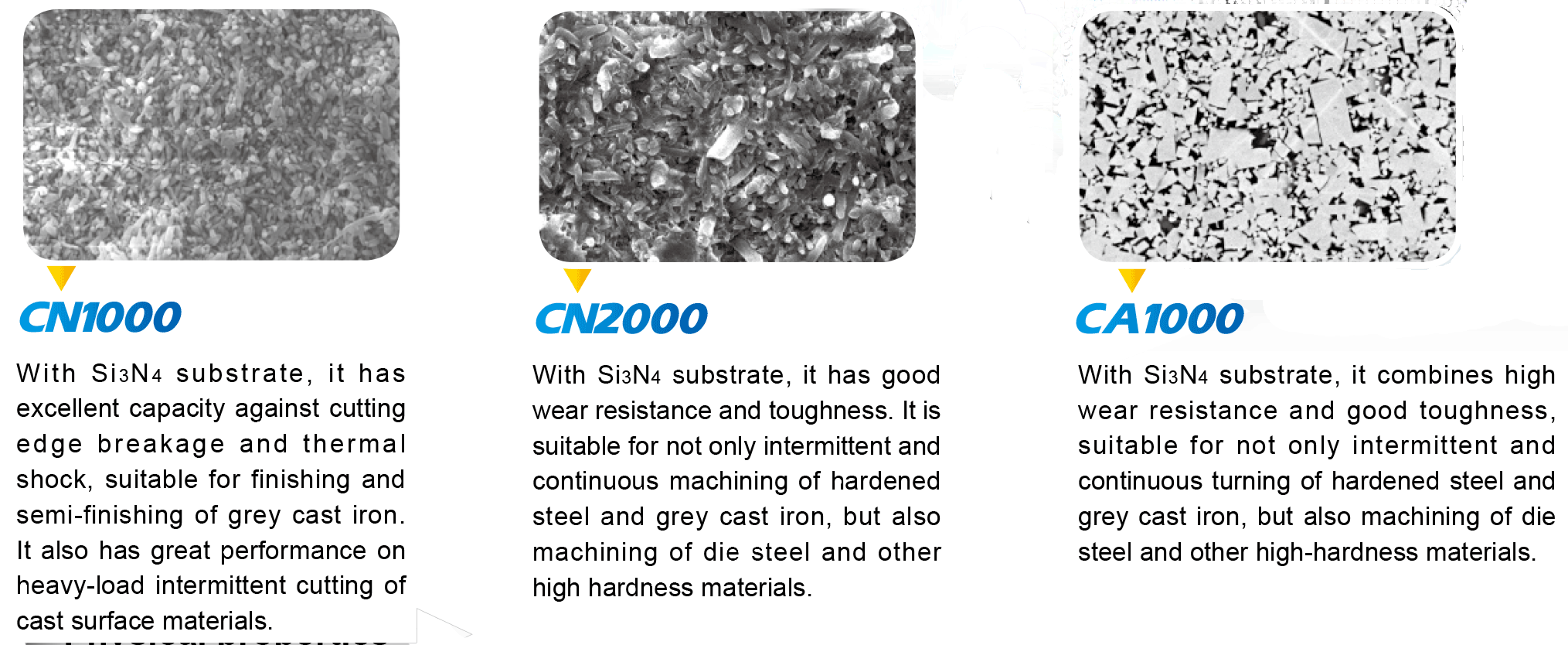 Physical properties

Recommended cutting parameters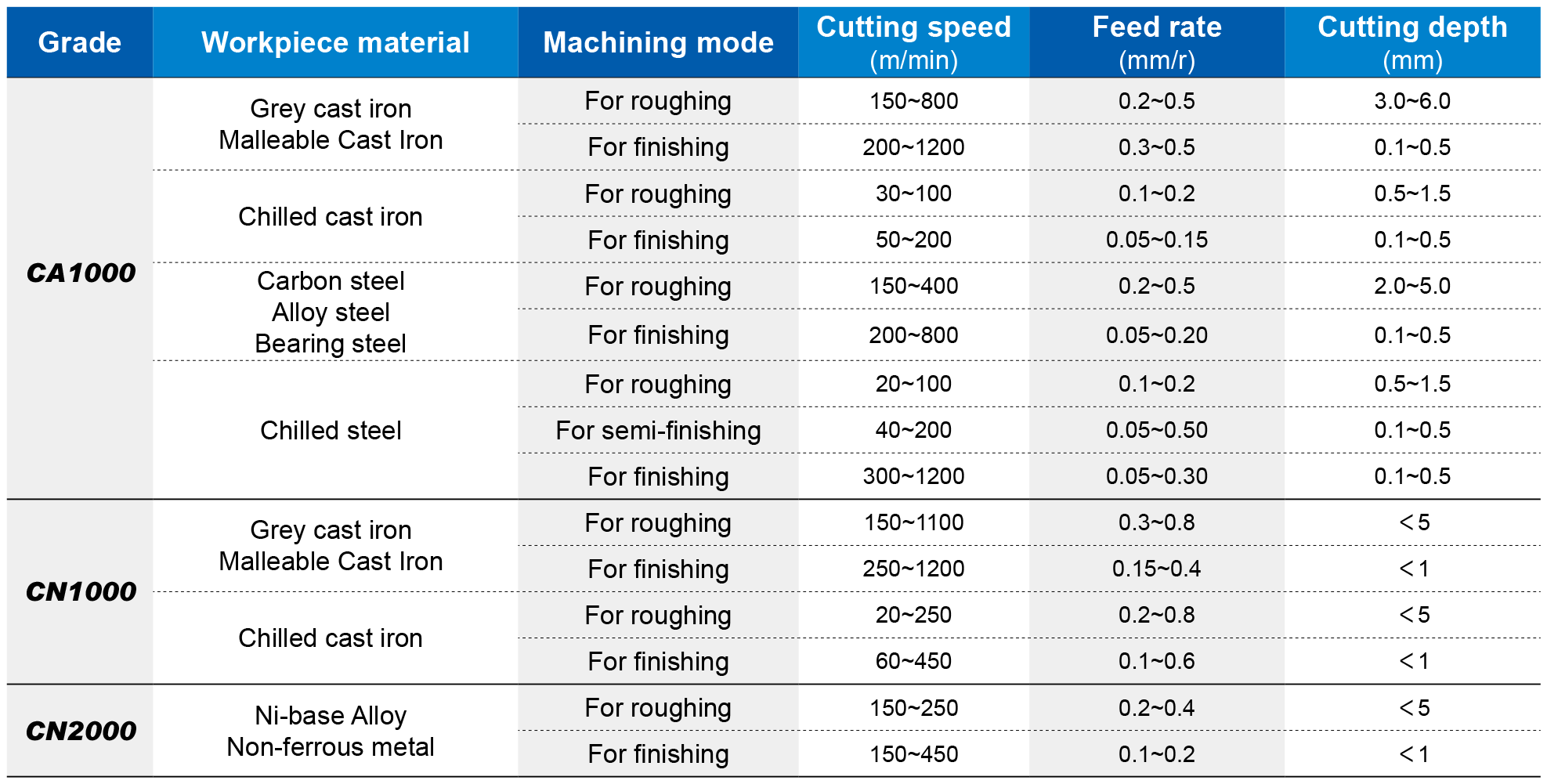 Table of correctional coefficient between material hardness and cutting speed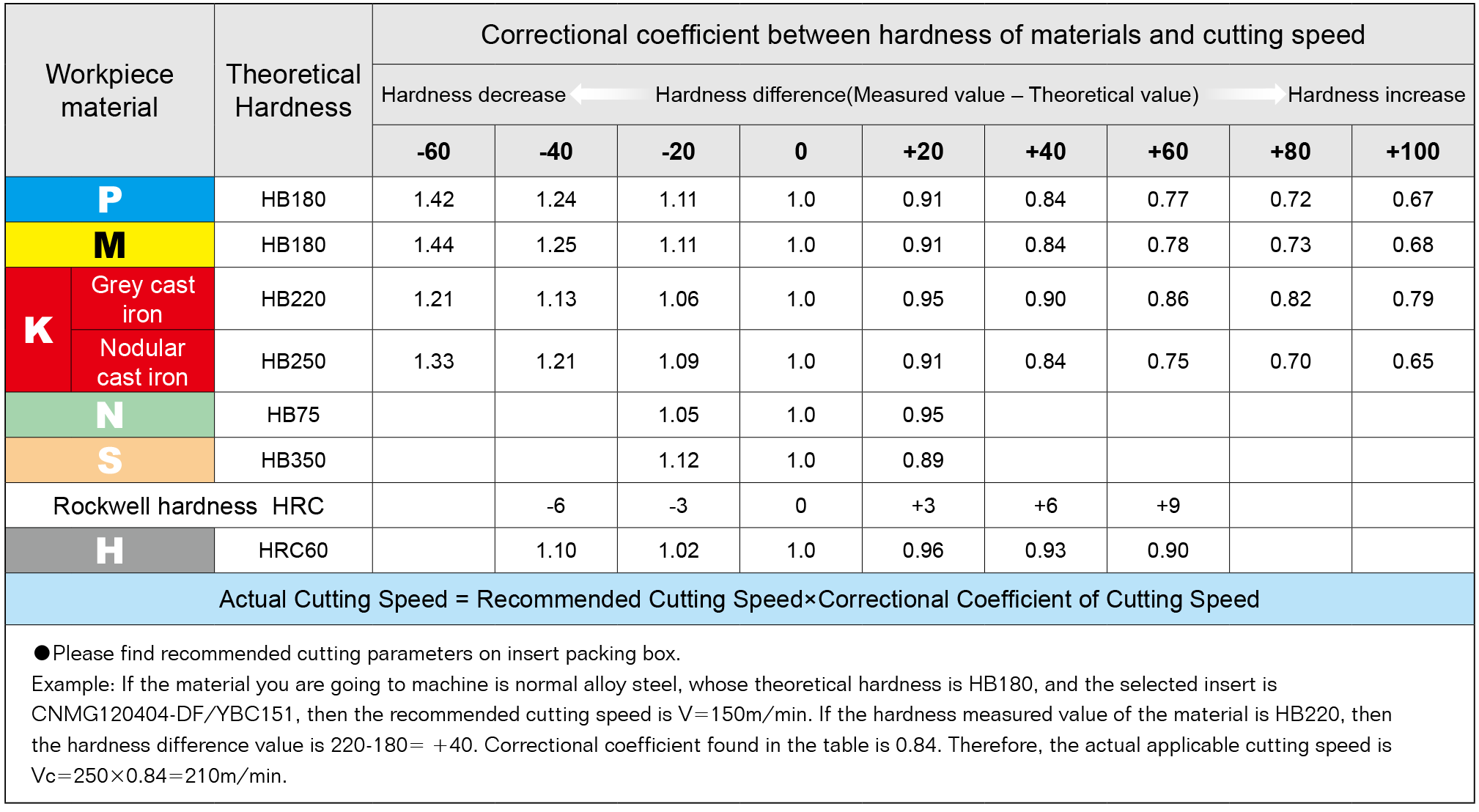 Correctional coefficient table between tool life and cutting speed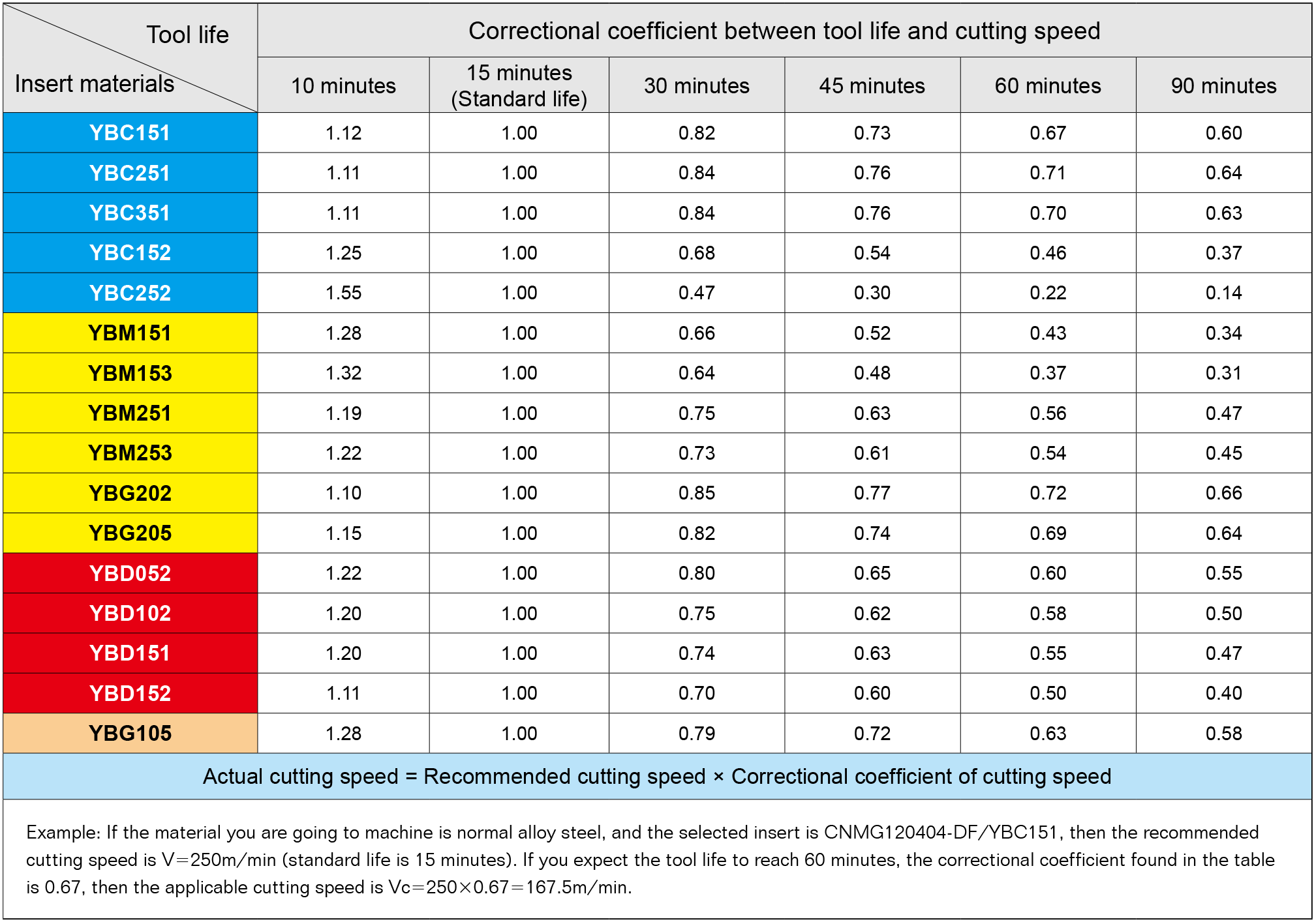 YBG203
New nano coating grade – suitable for threading in a variety of materials
Specially treated edge for superior surface quality
Sharp nose with small cutting resistance and superior performance
Full ground inserts with high dimensional precision for high quality threading
New nano coating grade specially designed for threading with longer insert life